Expert: No facts to evidence Pyongyang's possession of hydrogen bomb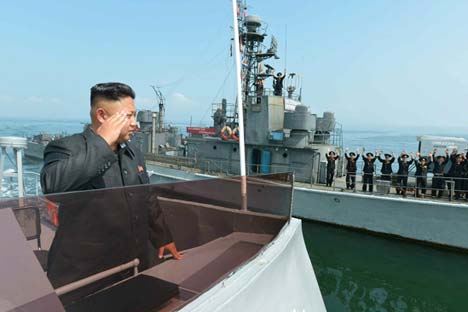 Kim Jong-un said that North Korea possessed both atomic and hydrogen bombs
The statement of North Korean leader Kim Jong-un alleging North Korea's possession of a hydrogen bomb is a response to the U.S. economic blockade of Pyongyang but it is problematic to speak about the real combat nuclear potential of North Korea, head of the Korean Studies Center of the Russian Academy of Sciences' Far East Institute Alexander Zhebin has said.
"This statement of Kim Jong-un is a response to Washington which is implementing the policy of financial smothering of North Korea and is trying to block foreign trade and foreign economic activity of Pyongyang. It seems the timing of this statement is not accidental, as the United States imposed additional sanctions on North Korea earlier this week," Zhebin told Interfax on Dec. 10.
"So far, these are just words uttered by the North Korean leader, a hint that Pyongyang intends to react to the U.S. position," the expert said.
As to the real grounds for the North Korean leader's statement on the possession of a hydrogen bomb, there are no facts to evidence this so far, Zhebin said.
"Many experts doubt that North Korea may even have a serviceable nuclear warhead that can be delivered to a target. Speaking of thermonuclear weapons, one can hardly say that Pyongyang possesses them from the military and practical points of view. Such weapons have not been tested," he said.
"So far, three tests which looked nuclear have been registered. It is not ruled out that thermonuclear weapon tests might have been computer-modeled. There are such specialists in North Korea and, probably, they also have hardware for such experiments. It is a solid fact that Pyongyang has not tested thermonuclear weapons. It is also hard to imagine how this can be done in the rather limited territory occupied by North Korea," Zhebin said.
Besides, one can deem topical the assessment of North Korean nuclear potential made by U.S. servicemen three years ago. "Even the Pentagon report on North Korean nuclear potential drawn up in 2012 in line with a decision of Congress admitted that North Koreans have not made a single successful test of intercontinental ballistic missiles and their warheads," Zhebin said.
At the same time, this statement of Kim Jong-un may mean that relations between Washington and Pyongyang continue to exacerbate.
"This kind of response of North Korea means that tensions remain in the relations between Washington and Pyongyang without any signs of readiness for compromise, moreover that the confrontation has been growing. This causes concern of neighboring countries, including Russia," Zhebin said.
North Korean leader Kim Jong-un said that North Korea possessed both atomic and hydrogen bombs.
"We managed to become a great nuclear power capable of defending the independence and national dignity of our homeland by mighty nuclear and hydrogen strikes," the Korean Central News Agency (KCNA) has quoted Kim as saying on Thursday during an inspection trip to the Armed Forces.
All rights reserved by Rossiyskaya Gazeta.