Italy opposes automatic extension of anti-Russian sanctions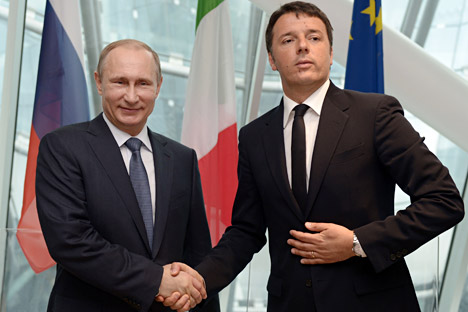 Italian Premier Matteo Renzi with Russian President Vladimir Putin at the end of a press conference at the Expo 2015 in Milan, June 10, 2015.
AP
Rome believes that there should be no automatic extension of EU sanctions
Rome believes that there should be no automatic extension of the EU sanctions against Russia, insisting on the political discussion on this matter, the Italian embassy to Russia said.
Italian Prime Minister Matteo Renzi confronted the automatic extension of the sanctions against Russia since he believes that such an important matter related to a country of such an importance [as Russia] cannot reduce to any automatism but requires a political discussion, a representative of the Italian embassy told Interfax in Moscow on Dec. 10.
The Italian side insisted on Dec. 9 that EU should not 'automatically' approve the extension of the anti-Russian sanctions for another six months, but hold a discussion on this matter instead, Italy's RAI television revealed on Dec. 9, citing diplomatic sources.
According to the TV channel, Italy informed Luxembourg, the country currently enjoying the EU chairmanship, that it opposes any automatic extension of the restrictive measures imposed in connection with the Ukrainian crisis and insists on debating over this question.
Following this, the Luxembourgian side removed the topic of the automatic sanctions' extension from the agenda. The current sanctions are due to expire on Dec. 31. Now it must be determined on which level and when this topic will be discussed.
A European diplomat working at EU institutions revealed earlier that the Committee of the Permanent Representatives of the Governments of the Member States to the European Union (Coreper) did not approve a proposal to extend the restrictive measures against Russia on Wednesday despite the expectations.
The issue has been delayed, and no explanations have been provided by Coreper as of yet, the source said.
Another source in EU told Interfax earlier that the proposal to extend the anti-Russian sanctions was expected to be approved at the Coreper meeting without any discussion. "The discussion was held at the working group. Upon Coreper's approval, the decision will be up to the Council of the European Union," the source explained.
All rights reserved by Rossiyskaya Gazeta.