Khodorkovsky charged in absentia with organizing murder, attempted murder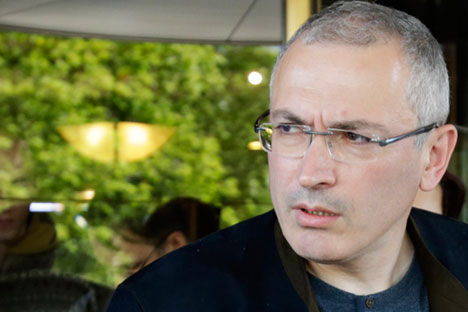 Mikhail Khodorkovsky.
Ria Novosti/Vasiliy Prokopenko
Former Yukos owner accused of organizing the murder of Nefteyugansk Mayor
Former Yukos owner Mikhail Khodorkovsky has been accused of organizing the murder of Nefteyugansk Mayor Vladimir Petukhov and one other person and the attempted murder of another four people, Russian Investigative Committee spokesman Vladimir Markin has told Interfax.
"We have managed to obtain new evidence as a result of operative investigative procedures and a resolution was passed on December 11, 2015, to charge Mikhail Khodorkovsky with crimes under the articles on murder and attempted murder of two or more people," Markin said.
He said it was the question of the murder of Nefteyugansk Mayor Vladimir Petukhov on June 26, 1998, and the attempted murder of Vyacheslav Kokoshkin, who was accompanying Petukhov (the mayor's bodyguard). In addition, Khodorkovsky was accused of the attempted murder of East Petroleum Handelsgas GmbH head Yevgeny Rybin (the top manager of a company competing against Yukos) on November 24, 1998, and March 5, 1999. Rybin's bodyguard was shot dead and two accompanying persons were injured. Rybin survived the attack.
Khodorkovsky did not appear in the Russian Investigative Committee where he was summoned and will soon be put on the wanted list.
"It is clear to the investigators that those crimes had a selfish motivation. For instance, it was decided to organize the murder of Petukhov after he, the Nefteyugansk mayor, had lawfully demanded that the oil company Yukos pay the evaded taxes. The reason for the attempted murder of businessman Vyacheslav Rybin was his lawsuits claiming Yukos's compensation of the damage done by the illegal activity of the oil company," Markin said.
"After Leonid Nevzlin, Alexei Pichugin, Gennady Tsigelnik, Yevgeny Reshetnikov and Vladimir Shapiro were prosecuted and convicted of those crimes, operative procedures continued in that criminal case until 2015 to uncover every accomplice in the crimes and, primarily, their organizers," Markin said.
"The work done by the investigators and operative services definitively established the involvement and a very active role of Mikhail Khodorkovsky in those murders and attempted murders. Not a single important decision was made in Yukos without authorization by Khodorkovsky," the Russian Investigative Committee representative said.
"It was Khodorkovsky, a shareholder and board chairman of the oil company Yukos, who ordered his subordinates Nevzlin and Pichugin and other individuals to murder Petukhov and Rybin whose professional activity disagreed with Yukos interests," he said.
"I can assure you that the principle of unavoidable punishment by which the Investigative Committee has always been guided in its activity will work again this time," Markin said.
All rights reserved by Rossiyskaya Gazeta.