Putin warns against attempted provocations regarding Russian group in Syria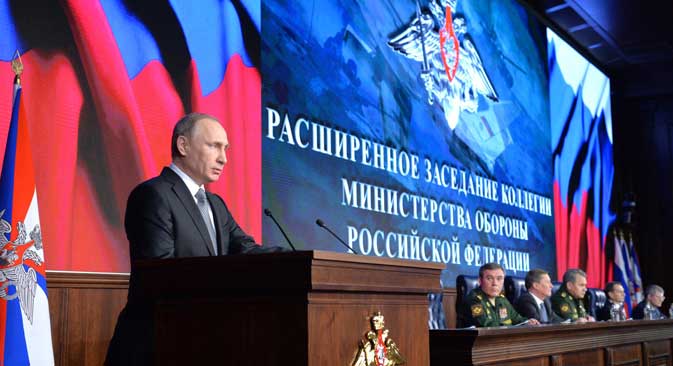 Russian President Vladimir Putin.
Kremlin.ru
Any force that threatens Russian military should be destroyed, he said
Russian President Vladimir Putin has warned against staging new provocations against Russian forces in Syria.
"I would like to give a warning to those who may again try to organize any kind of provocations against our servicemen," the president said at an expanded meeting of the Russian Defense Ministry board on Dec. 11.
Security of Russian troops and the airbase in Syria has been tightened, he said. "The airbase has been reinforced with new air defense means. Every operation of attack aircraft is supported by fighters," Putin said.
"I order to be maximally harsh and to immediately destroy any target threatening the Russian group or our ground infrastructures," the head of state said.
The actions taken by Russia in Syria are not dictated by abstract geopolitical interests and a wish to test new weapons; the main thing is to prevent a threat to Russia, Russian President said.
"Our actions there are not dictated by any unclear, abstract geopolitical interests, they are not dictated by a wish to train and test new weapons systems, which is, of course, also important in itself," Putin said.
"The main thing is to prevent a threat to the Russian Federation," Putin said.
All rights reserved by Rossiyskaya Gazeta.