Russia, China plan to implement several projects to increase bilateral trade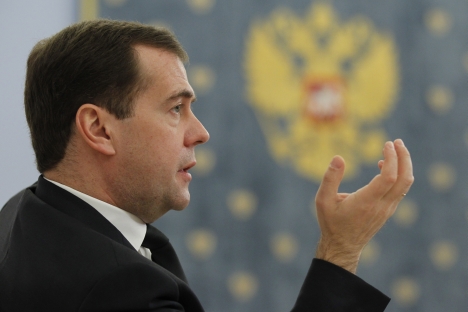 "The situation in the global economy is complicated now and this affects all the countries without exception."
TASS
It was decided to begin talks on drafting agreement on economic cooperation
Russia and China will implement largest projects within a few years that will allow reaching stable positive indicators, Russian Prime Minister Dmitry Medvedev said.
"Our common goal is to lift barriers in mutual trade and investments. We hope that the launching of largest projects within a few years will add tens of billions of dollars to our trade turnover and will allow again reaching a steady positive trajectory," Medvedev said in an interview with the Chinese newspaper Renmin Ribao on the eve of a visit to China.
Bilateral investment cooperation, which can give an impetus to trade, is gaining momentum, the Russian prime minister said. "An effective basis has been created for its successful development. I refer to 58 major joint investment projects, which were approved at the second meeting of the Russian-Chinese intergovernmental commission on investment cooperation in St. Petersburg on June 18, 2015," he said.
Meanwhile, the cooperation with China is being intensified within the framework of the Eurasian Economic Union (EAEU). "An agreement on information exchange on goods and vehicles, which are moving across the custom borders of the EAEU and China, is at the stage of coordination. This agreement will allow minimizing the use of grey schemes in trade," the head of government said.
It was decided to begin talks on drafting an agreement on trade and economic cooperation between the EAEU states and China, Medvedev said. "This agreement should ensure favorable conditions for the development of practical cooperation and the attraction of long-term investments, set up the mechanisms of easing and stimulating trade, bring closer our practices in the sphere of standards, technical requirements and customs administration rules," he said with confidence.
Meanwhile, the prime minister agreed that the volumes of bilateral trade have declined this year, but its structure has changed due to food supplies from Russia.
"The situation in the global economy is complicated now and this affects all the countries without exception. The downward tendency in the overall trade turnover between Russia and China has appeared this year. This happened mainly due to falling oil prices," he said.
Meanwhile," the turnover structure has changed, and now agrarian produce and high-added value produce is taking a growing share in Russian export." "In particular, the share of the supplies of food, agrarian produce, metals and items made of them, the deliveries of chemical and even textile produce has increased in our export to China for the first 10 months of 2015," Medvedev said.
The prime minister said that this contributed to the diversification of Russian economy, encourages companies to more actively integrate into the global economy, find its niches in the production and the promotion of high-added value produce on the markets.
All rights reserved by Rossiyskaya Gazeta.