Next international crew departs for ISS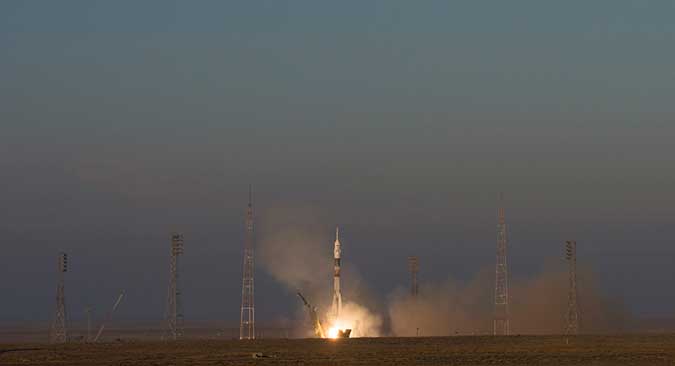 Three Expedition 46 crew members launch aboard the Soyuz TMA-19M rocket from the Baikonur Cosmodrome in Kazakhstan.
NASA/Joel Kowsky
Soyuz is expected to arrive at the ISS within six hours
A Soyuz-FG rocket coupled with the Soyuz TMA-19M spaceship has blasted off from the First (Gagarin) Launch Pad of Baikonur, an Interfax-AVN correspondent has reported from the location.
"Soyuz TMA-19M will bring to orbit expedition 46/47 consisting of Russia's Yuri Malenchenko, U.S. astronaut Timothy Kopra and British astronaut Timothy Peake," a Roscosmos representative told reporters.
Soyuz is expected to arrive at the International Space Station within six hours. The arriving crew will spend an extra month onboard the station (seven months instead of six) because of the flight plan adjustment. They will work with the new Progress-MS resupply ship, will receive U.S. Dragon and Cygnus resupply ships, and will install additional equipment in the Russian and U.S. segments of the station.
All rights reserved by Rossiyskaya Gazeta.