Second line of 'energy bridge' launched in Crimea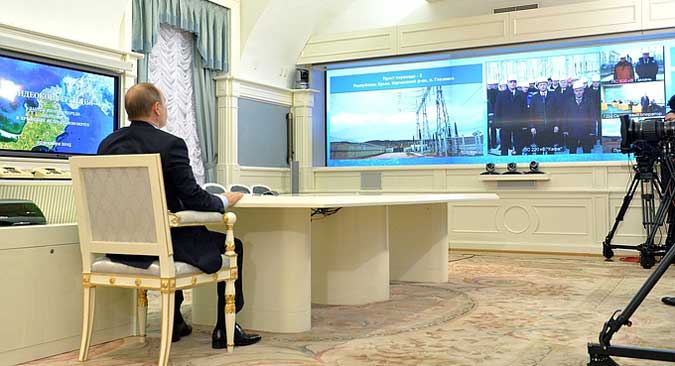 A teleconference with Feodosia.
Kremlin.ru
Another two lines of the 'energy bridge' due to be commissioned in May 2016
Russian President Vladimir Putin has ordered the launch of the second leg of 'energy bridge' between Krasnodar Territory and the Crimean peninsula on Dec. 15.
The first segment of the transmission line connecting Russia's Unified Energy System and the Crimean power grid was started up in early December.
"The second line of the 'energy bridge' will supply additional 200 megawatts to the Crimean power grid and the total supply [including the first line] will amount to 400 megawatts. The overall power supply in the Crimean power grid will stand at approximately 1,000 megawatts, including local generation and power flows," Russian Energy Minister Alexander Novak said in Feodosia during a teleconference with Russian President Vladimir Putin.
Another two lines of the 'energy bridge' from Russia are due to be commissioned in May 2016 to enlarge the total power capacity to 1,300 megawatts, excluding electricity flow from Ukraine.
"We need to attain the following goals that we face, namely, lay two more power lines to the Crimean Peninsula before summer, or, to be more precise, in April or in May at the latest, so as to bring power supply to Crimea to at least 800 MWt," Putin said.
Putin thanked electric power companies for their work and Crimean residents "for their patience, for the trust they had and have in all of us, for exhibiting courage and self-control and for the confidence they place in us."
All rights reserved by Rossiyskaya Gazeta.