Vietnam still keen on Ninh Thuan nuclear power plant: Russian Deputy PM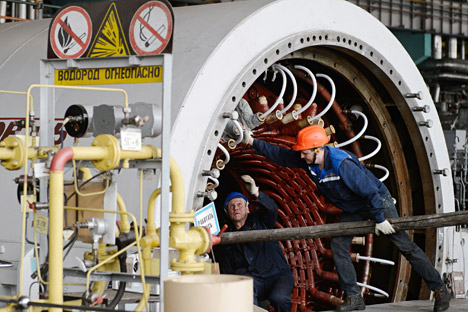 SVERDLOVSK REGION, RUSSIA. APRIL 23, 2015. Workers doing maintenance in the turbine hall of Beloyarsk Nuclear Power Plant in Zarechny. Reactor No. 3 has been shut down for scheduled refuelling and maintenance.
Donat Sorokin/TASS
Construction of Ninh Thuan 1 will begin in 2020
Vietnam is still keen on Russia building the Southeast Asian nation's first nuclear power plant, despite a delay in the project, Russia's First Deputy Prime Minister Igor Shuvalov told TASS on Dec 16.
"The Vietnamese government confirms that it's still interested in cooperation with the Russian Federation regarding the issue and the Ninh Thuan 1 nuclear power project will happen," Shuvalov said, according to the report. He added that the project would be further delayed because of internal matters in Vietnam.
"For Vietnam this is a very challenging project as everyone remembers the Fukushima tragedy," Shuvalov told TASS. "Currently, the issues of ensuring safety for people when constructing a nuclear plant are being considered very thoroughly so we've agreed that experts from Rosatom, which is Vietnam's partner in the project, will be working not only in their main area of constructing the plant but will also help in explanatory work."
Earlier this month, the Vietnamese government said the construction of the Ninh Thuan 1 plant would begin in 2020. Russia and Vietnam initially wanted to start construction this year.
All rights reserved by Rossiyskaya Gazeta.