Putin: Moscow to continue efforts to settle Russia-EU-Ukraine relations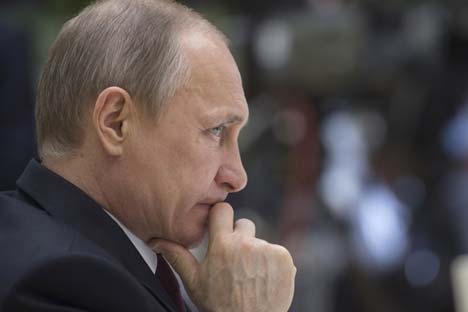 Russian President Vladimir Putin.
Reuters
"We want to improve relations with our partners", Russian leader said
Russian President Vladimir Putin has announced Russia's intention to continue efforts aimed at regulating the relations within the triangle of the European Union, Russia and Ukraine.
"I think we will still revisit these issues many times. We want to improve relations with our partners on this subject [the trade regime] as well, both with Ukraine and with the EU," the president said on Dec. 22, commenting on the outcomes of the annual round of talks that concluded in Brussels.
When the Russian negotiators raised contentious issues, the head of the EU delegation said "the game is over," rose and left, Putin said.
"The game is over and they are gone, but issued a press release today that it was the Russian delegation that disrupted the talks," the Russian leader said, adding that "it is not very European, not tolerant at all."
The talks in Brussels focused on several things, he said. First of all, European partners insist that Russia must switch to the European phytosanitary control system.
"Since we cannot do this in one go, it will mean that all our agricultural products will be barred from the European market. In the meantime, with zero customs duties remaining between us and Ukraine, all European goods will go to Ukraine, replacing ours, among others, and to our country," Putin said.
Secondly, the EU demands that Russia switch to the European system of technical regulation and technical standards, he said. "We say: Listen, for us to switch to your system of technical standards, we need to upgrade our equipment to make products of that quality, this means time and hundreds of millions, billions of investment, though some standards are better in your countries," said the head of state.
"We cannot shut down our enterprises, throw people out in the street and lose entirely that same Ukrainian market," Putin said. In response to Russia's objections European partners proposed introducing an 18-month transition period, he said.
Another extremely important issue is the goods' country of origin, Putin said. If large-scale assembly of European products takes place in Ukraine, the entire stream of goods in any industry will pour into Russia, he said.
"We need to devise a system that gives an accurate understanding and answer to the question of the origin of goods, and for that, we need to ensure proper operation of customs agencies," Putin said.
The European negotiators asked Russia to report any concerns that arise and promised to think everything over, he said.
All rights reserved by Rossiyskaya Gazeta.