Ministry: Russian planes strike 1,093 terrorist sites over 5 days in Syria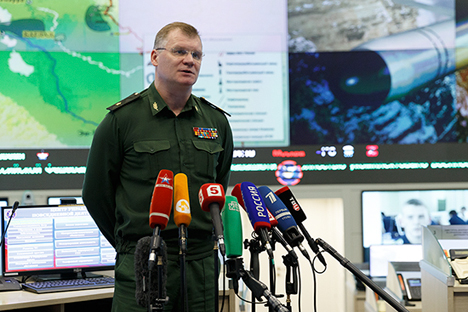 Russian aviation destroyed 2 bases for storing petroleum products
The Russian Aerospace Forces carried out strikes on 1,093 terrorist sites and targets in Syria over the past 5 days, having completed 300 combat flight missions, Russian Defense Ministry spokesman Igor Konashenkov has said.
"Over the past 5 days, on December 18 through 23, the warplanes of the Russian aviation group in the Syrian Arab Republic completed 302 combat flights striking 1,093 sites in the provinces of Aleppo, Idlib, Deir ez-Zor, Hama, and Homs," Konashenkov told a briefing in the Russian Defense Ministry on Dec. 23.
The Russian aviation has destroyed two bases for storing petroleum products and a large training camp, which were used by terrorists. The training camp was in the Idlib province and contained "a large number of instructors who arrived in Syria from the neighboring countries," Konashenkov said.
All rights reserved by Rossiyskaya Gazeta.