Chechen leader calls Poroshenko and Yatsenyuk puppet theater actors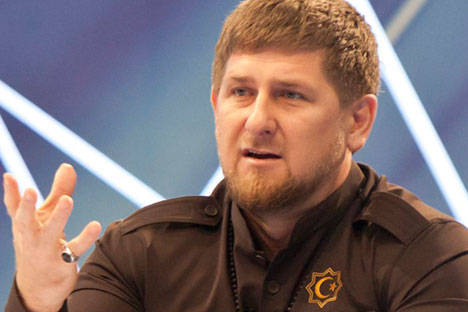 Head of the Chechen Republic Ramzan Kadyrov.
Yelena Afonina/TASS
"Their main goal is to please their Western patron", said Kadyrov
Ramzan Kadyrov, the leader of Chechnya in Russia's North Caucasus, believes that Ukraine's President Petro Poroshenko and Prime Minister Arseniy Yatsenyuk resemble puppet theater actors as they seek to please the West.
"I have been asked what I think of Poroshenko and Yatsenyuk. But what can I say? They are talented actors of a puppet theater. They are not patriots of Ukraine, not defenders of the rights of their own state and the Ukrainian people. Rather, their main goal is to please their Western patrons and blindly follow their orders," Kadyrov told a press conference in Grozny overnight into Dec. 29.
"The U.S. and the West have declared sanctions against Russia because it seeks to protect the rights of civilians in Ukraine," he said.
"Russia supports civilians in Ukraine. It calls for this problem to be resolved by normal and civilized methods and against using weapons against people. And sanctions have been imposed on us because of that. Against whom [were sanctions introduced]? Sanctions are not directed against individual persons. Rather, they are directed against the entire nation. Against the Russian nation! Against you and me, among others," he said.
Kadyrov said he is convinced that "it is impossible to tell Russia what to do through sanctions." "These actions of theirs will not succeed," he added.
All rights reserved by Rossiyskaya Gazeta.