Putin sends New Year's greetings to foreign leaders and politicians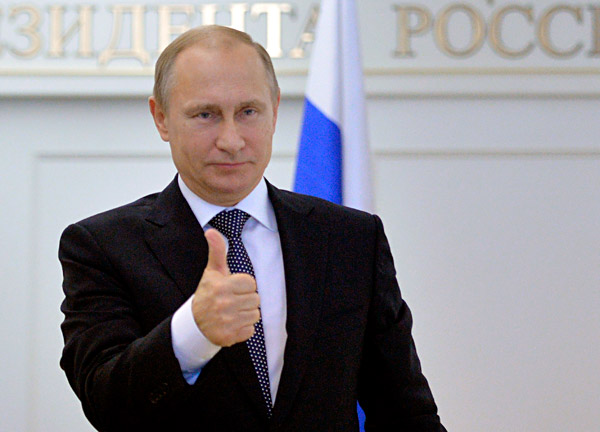 Russian President Vladimir Putin.
AP
Russian President Vladimir Putin sent New Year's greetings
Russian President Vladimir Putin sent New Year's greetings to a number of foreign leaders and heads of international organizations, and, also, to some former foreign leaders and policymakers, the Kremlin press service said.
In his message to Chinese President Xi Jinping on the occasion of the upcoming New Year and the Spring Festival, Putin said he was "looking forward to further constructive work to develop the entire range of Russian-Chinese ties."
In his messages to Indian President Pranab Mukherjee and Prime Minister Narendra Modi, the Russian leader "stressed that the outgoing year saw the further advancement of the privileged strategic partnership between the two countries."
Putin noted also that the start of India's official accession to the Shanghai Cooperation Organization "was a prominent event of the outgoing year, expressing confidence that there is every chance to quickly complete the process."
In a greeting message to Canadian Prime Minister Justin Trudeau, Putin said he expected to Russian-Canadian ties to develop constructively in the coming year in all areas, ranging from trade and the economy to sport, "with our traditionally fierce but friendly hockey battles."
Putin also sent greetings to Abkhaz President Raul Khadjimba, Armenian President Serzh Sargsyan, Azeri President Ilham Aliyev, Belarusian President Alexander Lukashenko, Brazilian President Dilma Rousseff, Finnish President Sauli Niinisto, Kazakh President Nursultan Nazarbayev, Korean President Park Geun-hye, Kyrgyz President Almazbek Atambayev, Moldovan President Nicolae Timofti, Serbian President Tomislav Nikolic, South African President Jacob Zuma, South Ossetian President Leonid Tibilov, Tajik President Emomali Rahmon, Turkmen President Gurbanguly Berdimuhamedow, Uzbek President Islam Karimov, and Venezuelan President Nicolas Maduro.
In addition, the Russian leader also sent Christmas and New Year's greetings to a number of former foreign heads of state and government and policymakers, including, in particular, Cristina Fernandez de Kirchner, Silvio Berlusconi, Fidel Castro, George H.W. Bush, George W. Bush, King Juan Carlos I of Spain, Nicholas Sarkozy, Francois Fillon, Gerhard Schroeder, Helmut Kohl, Henry Kissinger, and Tarja Halonen.
All rights reserved by Rossiyskaya Gazeta.