Kakhovka-Titan power transmission line feeding Crimea fixed
The repair operations on the Kakhovka-Titan power transmission line in Ukraine have been completed
The repair operations on the Kakhovka-Titan power transmission line in Ukraine have been completed, but the line will be hooked up to the grid only after the Ukrainian authorities give a permission, the Kherson regional administration said on Jan. 2.
"The contract for supplying electricity to the temporarily occupied Crimea ended on Jan. 1, 2016, and therefore decisions concerning all further steps rest with the country's top leadership. We have completed our work. When the negotiating process between the two parties is finished, it will take Ukrenergo repair workers less than two hours to connect the loops for transmitting electricity," says Ihor Bosko, the head of the Kherson trunk power grids within the national electricity company Urkenergo.
The Kalanchak and the Chaplynka districts in the Kherson region, which are normally fed via the Kakhovka-Titan power transmission line, are currently connected to the grid using reserve 35 kV Oblenergo lines.
It was reported earlier that electricity supplies via the Kakhovka-Titan power transmission line were discontinued after a protection system was activated near the village of Bohdanivka in the Kakhovka district in the early hours of December 30, 2015. This fully cut electricity supplies from Ukraine to Crimea.
'Energy bridge' between Krasnodar Territory and Crimea. Click to enlarge the map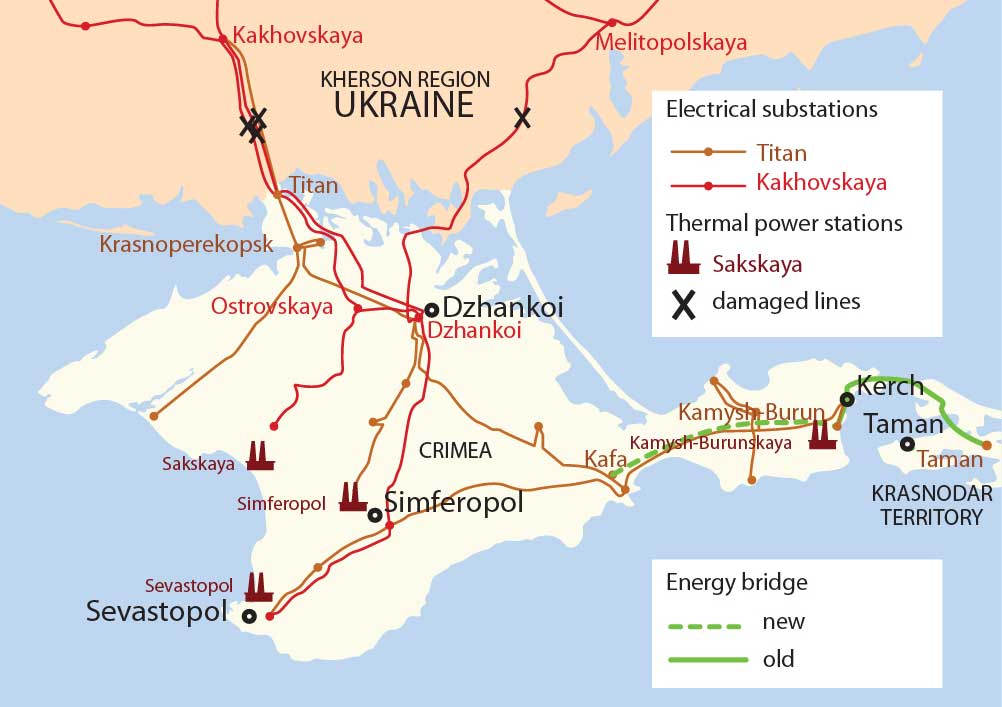 All rights reserved by Rossiyskaya Gazeta.