Putin: Constitutional reform should underlie peace process in Ukraine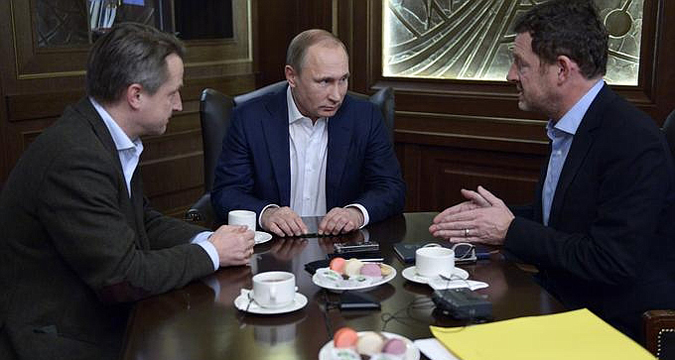 Russian President Vladimir Putin.
Kremlin.ru
Merkel, Holland should pay attention to implementation of Minsk agreements.
German Chancellor Angela Merkel and French President Francois Holland, who are part of the Normandy Quartet, should pay more attention to implementation of the Minsk agreements on Ukraine, Russian President Vladimir Putin has said.
Speaking in an interview with the German Bild newspaper, Putin said that the constitutional reform in Ukraine should underlie the political process of settling the Ukrainian crisis.
"The constitutional reform and political processes are to be implemented first, followed by confidence building on the basis of those reforms and the completion of all processes, including the border closure. I believe that our European partners, both the German Chancellor and the French President should scrutinise these matters more thoroughly," Putin said.
When asked whether he thinks Merkel and Holland are not paying enough attention to the Ukrainian peace process at the moment, Putin said: "I think they have a lot of problems of their own. But if we are addressing this matter then we must scrutinise it."
Putin also described as absurd the situation where the West introduces sanctions against Russia to prompt it into implementing the Minsk agreements whereas their implementation depends full on Ukraine.
"You cannot demand that Moscow do something that needs to be done by Kiev. For example, the main, the key issue in the settlement process is political in its nature and the constitutional reform lies in its core. This is Point 11 of the Minsk Agreements. It expressly states that the constitutional reform must be carried out and it is not Moscow that is to make these decisions!" Putin said.
He pointed to the need for changes in the Ukrainian constitution to be permanent.
"The Ukrainian Government introduced the law on the special status of those territories, a law that had been adopted earlier, into the transitional provisions. But this law, which they incorporated in the Constitution, was adopted for the duration of three years only. Two years have already passed," he said.
"When we met in Paris, both the German Chancellor and the French President agreed that this law should be changed and included in the Constitution on a permanent basis. Both the President of France and the Chancellor of Germany confirmed that," the president said.
All rights reserved by Rossiyskaya Gazeta.