Police: Man born in North Caucasus sets off grenade near bus stop in Moscow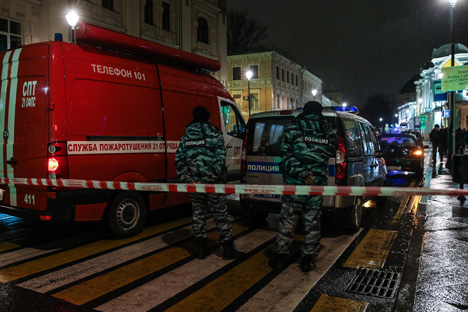 Police officers at the site of a blast at a bus stop in Pokrovka Street, Dec. 8, 2015.
Valery Sharifulin/TASS
Police established identity of the man suspected of setting off a grenade
The Moscow police have established the identity of the man suspected of setting off a grenade near a bus stop on Pokrovka Street in the center of Moscow. The suspect was born in the North Caucasus, a representative of the Moscow city police department has told Interfax.
"Makhmud Akhmedov born in 1983 in the North Caucasus Federal District is wanted on suspicion of perpetrating this crime. He looks 30-35 years of age, wears a beard, is 170-175 centimeters tall and athletic. He was wearing a long dark jacket, light-colored jeans, sneakers and a dark baseball cap," he said.
A facial composite of the man suspected of using an explosive device in an act of hooliganism has been constructed, he said.
It was reported earlier that an unknown man tossed a hand grenade on the road near 19 Pokrovka Street at 11:17 p.m. on December 7. Five people were hurt in the explosion. The suspect was not caught red-handed and remains wanted. A criminal case was opened.
All rights reserved by Rossiyskaya Gazeta.