Health minister: Russia registers two Ebola vaccines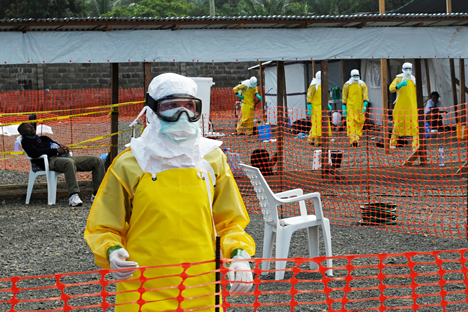 Russia has developed two vaccines against the Ebola fever.
Reuters
Russia has developed two vaccines against the Ebola fever
Russia has developed two vaccines against the Ebola fever, which are superior to their foreign counterparts, with one of them being suitable for patients with immunodeficiency, Russian Health Minister Veronika Skvortsova has said.
"In December Russia registered two vaccines against Ebola, a hemorrhagic fever. Both vaccines were produced at the Federal Scientific Research Center of Epidemiology and Microbiology named after Gamaley, tested at the pre-clinical stages at the Defense Ministry institutions; clinical trials were also carried out jointly with the Health Ministry and the Defense Ministry," Skvortsova said at a meeting between Russian President Vladimir Putin and the government.
"The first vaccine is unique and has no analog in the world: for the first time, based on the most advanced biomedical technologies, two viral vectors with varying vaccine structure have been included. As a result, it became possible to stimulate the humoral, as well cellular immunity, and the virus was completely neutralized in all those who were vaccined, 100% neutralization with very low vaccine concentration. I already said that this vaccine has no analog in the world. I would like to stress that the two currently existing vaccines - one by U.S. firm Merck, the other by Britain's GlaxoSmithKline, are much inferior in efficiency," the health minister said.
"The second vaccine was made specifically for a cohort of population who suffer from immunodeficiency, which is of great importance for the countries that have seen cases of the infection. This vaccine is the analog of the British one, and its main mechanism is to provide an over 35 times boost to cellular immunity. The vaccine is superior to the British analog in efficiency," she said.
All rights reserved by Rossiyskaya Gazeta.