Russian operation in Syria leads to liberation of 217 sites from ISIS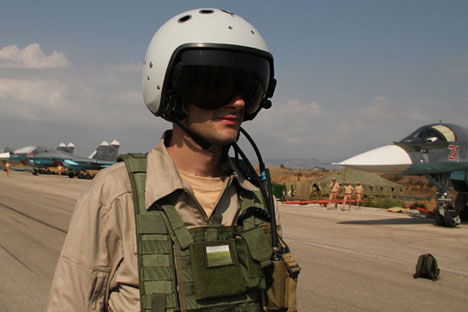 Russian pilot of the Su-34 at the air base, "Hmeymim" in Syria.
RIA Novosti/Dmitry Vinogradov
Democratic opposition forces playing increasing role in the fight with ISIS
More than 200 populated localities have been liberated from ISIS during the Russian Aerospace Forces' operation in Syria, head of the General Staff's main operative department Sergei Rudskoi said on Jan. 15.
"During 100 days of the operation carried out by the Russian Aerospace Forces in Syria, 217 populated localities have been liberated from ISIS and more than 1,000 square kilometers of land have been freed," Rudskoi said at a press briefing at the Russian Defense Ministry.
Syrian democratic opposition forces, which are acting together with governmental units, are playing an increasing role in the fight against terrorists, he said.
"The total strength of these units exceeds 10,000 now," Rudskoi said.
In the past few days, units of the Syrian Democratic Forces led by al-Ghanim, have moved eight kilometers towards al-Raqqah, and freed four populated localities. In addition, two units have freed an area of 60 square kilometers east and west of the Euphrates dam, he said.
Three populated localities were freed in the north of the Latakia province, include the main stronghold of the militants and the capital city of highland Latakia, Salma, with the active participation of the 'Desert Falcons' opposition unit.
Ten populated localities were taken over in the Hama province, Rudskoi said. "Twenty-two armed militants who had been fighting for the terrorists volunteered to surrender to the governmental forces in the fight near the town of Jarjisah," the general said.
All rights reserved by Rossiyskaya Gazeta.