Russian specialists on transport security expected in Egypt within month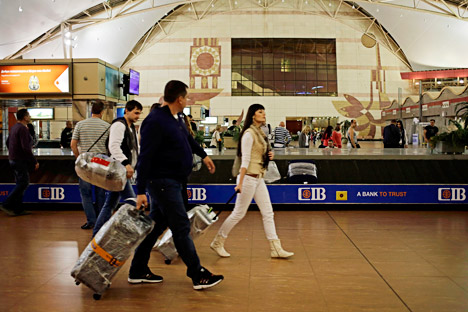 Russian tourists prepare to depart from Sharm el-Sheikh International Airport, south Sinai, Egypt, Thursday, Nov. 5, 2015.
AP
Experts to draw conclusions on the possibility of resuming flights to Egypt
Russia experts will draw conclusions on the potential possibility of resuming flights to Egypt after evaluating the security measures taken by the Egyptian authorities in the country's airports, a source with knowledge on the matter told Interfax.
"Preparations are being made for a visit by Russian experts on transport security. They are expected to pay a working visit to Egypt within a month and evaluate the sufficiency of the security measures taken in the country's airports," the source said.
He did not rule out that "conclusions on the possibility of resuming flights between Russia and Egypt may be worded after the visit."
Some media earlier reported, citing an Egyptian Aviation Ministry official, that Russian aviation authorities will meet with officials in charge of security at Egyptian airports to become familiar with the new safety rules adopted at airports.
A Russian Kogalymavia Airbus A321 passenger plane, en route from Egypt's Red Sea resort of Sharm el-Sheikh to St. Petersburg, crashed 23 minutes after takeoff in the Sinai Peninsula on October 31, killing all 217 passengers and seven crewmembers.
Bortnikov said on November 17, that an explosive device had blown up on board the A321. The incident is being investigated as a terrorist attack.
Russian President Vladimir Putin on November 8, issued a decree, On Some Measures to Ensure the National Security of the Russian Federation and Protection of Citizens of the Russian Federation from Criminal and Other Illegal Actions, which suspends flights to Egypt.
The decree recommends that tour operators and tour agents refrain from selling to citizens tour packages envisaging flights from Russia to Egypt in the course of the time the ban remains in place.
All rights reserved by Rossiyskaya Gazeta.