Lavrov expects inter-Syrian talks to begin in January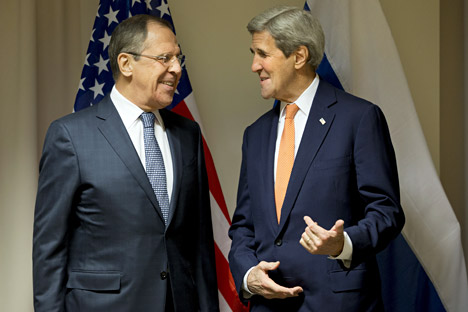 U.S. Secretary of State John Kerry meets Russian Foreign Minister Sergey Lavrov for their meeting on Syria, in Zurich, Switzerland, Jan. 20, 2016.
Reuters
Russian Foreign Minister hopes inter-Syrian talksto be held this month
Russian Foreign Minister Sergei Lavrov hopes that the political peace process in Syria will begin in January, with inter-Syrian talks also to be held this month.
"It is no less important to begin the political process as quickly as possible. We have agreed that once this process begins, it will be possible to talk about ceasefire," Lavrov said after talks with U.S. Secretary of State John Kerry on Jan. 20.
"We hope the political process will begin in the very near future, in January. Various dates have been called, but a final decision will be made by the UN Secretary General upon the advice and recommendation of his special envoy Staffan de Mistura," the minister said.
"We hope that the negotiating process will begin this month. I want to stress that the process will only begin, because it will, of course, take quite a lot of time," Lavrov said.
De Mistura "is currently in active contact with the Syrian sides, with the government of Syria, with Syrian opposition members, both inside and outside of Syria, and has been entrusted by the UN Security Council with the duty to invite Syrian participants to these talks," Lavrov said.
Hopefully, this will be done in the very near future, he said.
All rights reserved by Rossiyskaya Gazeta.