Snowplow driver pleads guilty of plane crash that killed Total owner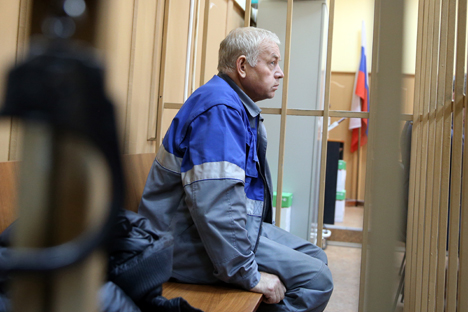 Snowplow driver faces Moscow court.
Artyom Korottaev / TASS
Vladimir Martynenko pleaded guilty after he had been definitively indicted
Snowplow driver Vladimir Martynenko, the main defendant in the case of the Falcon crash which killed the owner of the Total oil company, pleaded guilty after he had been definitively indicted, his lawyer said.
"My defendant has been definitively indicted, and he pleaded guilty. We will ask for a special proceeding for his case," lawyer Alexander Karabanov told Interfax on Jan. 21.
According to former colleagues of Martynenko, the procedure for examining employees from the airport's ground services has not been altered.
"My defendant said that, unfortunately, the procedure for examination and checks has not been changed: they [the checks] used to be held once a day, at the beginning of the work period, and they are still held this way, no one additionally examines workers in the evening," Karabanov said.
The lawyer said his client believed that an additional check would lower the risk of situations of the kind that led to the plane crash.
Earlier, the detectives brought accusations against other defendants in the plane crash case, and all accusations against air traffic control intern Svetlana Krivsun were dropped.
Overnight on October 21, 2014, the Falcon business jet, which was about to fly to Paris, crashed at the Moscow's Vnukovo airport as a result of a collision with a snow plough, which happened to be on the runway. Four French citizens who were on board, including three crewmembers and a passenger - CEO of the Total oil company Christophe de Margerie - died.
A criminal inquiry was opened under Article 263 of the Russian Criminal Code ("Violation of the rules for safe movement and operation of an aircraft, resulting in two and more deaths by recklessness"). The inquiry is conducted by the Main Investigative Directorate of the Russian Investigative Committee.
Initially, the charges were brought against snowplow driver Martynenko, Vnukovo airport air traffic controller Alexander Kruglov who was in charge of air traffic control at the moment the plane crash occurred, lead engineer of the airfield service Vladimir Ledenov who supervised the clearing of now, and flight supervisor Roman Dunayev.
Russian Investigative Committee spokesman Vladimir Markin told Interfax on August 28, 2015, that the Falcon crash in Moscow's Vnukovo airport was caused by a runway incursion by a snowplow and erroneous operations of air traffic controllers.
All rights reserved by Rossiyskaya Gazeta.