Russian delegates discussed market influences with oil exporters at Davos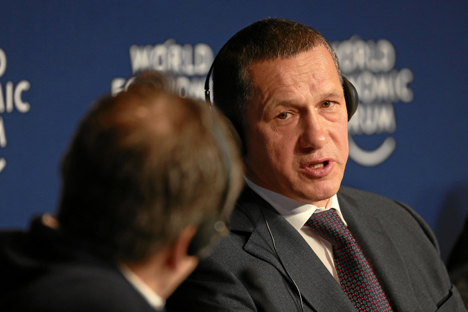 Russian Deputy Prime Minister Yuri Trutnev.
swiss-image.ch/WORLD ECONOMIC FORUM
Deputy Prime Minister Yury Trutnev told about Russian delegation in Davos
Russian delegates at the World Economic Forum in Davos last week discussed with world oil exporters how actions might be coordinated to influence oil prices, Deputy Prime Minister Yury Trutnev said at a meeting with cabinet ministers, chaired by Russian President Vladimir Putin.
"There was a whole series of meetings with leaders, with representatives of governments and oil exporting companies, who are saying they are not happy with oil prices. They think these prices are unable to guarantee investments in exploration, the development of fields, especially on the shelf," Trutnev said.
"There was a conversation about coordinating efforts in this respect with a view to changing oil prices, otherwise, after a certain period, we might come up against a shortage of energy supplies," he said.
All rights reserved by Rossiyskaya Gazeta.