Russian specialists send recommendations on aviation safety to Egypt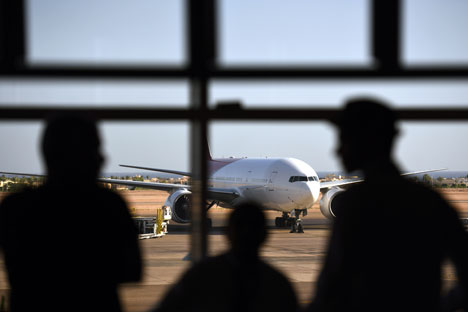 Tourists look out at a Russian plane on the tarmac of the airport in Egypt's Red Sea resort of Sharm el-Sheikh on November 6, 2015.
AFP / East News
Russia sent additional recommendations following audit of Egyptian airports
Russian specialists have sent additional recommendations on aviation safety measures to the Egyptian aviation authorities following an audit of Egyptian airports, Rosaviatsiya has reported on Jan. 27.
According to the Egyptian authorities, the implementation of these recommendations will require more resources and time.
"The aviation authorities of both countries have the same understanding of the need to take more measures to increase the protection of Egyptian airports from terrorist threats. The sides have agreed to continue cooperation and interaction in this sphere,' the agency has reported. According to earlier reports, a group of Russian specialists, in late January, returned from Egypt, where they had evaluated the readiness of local airports to ensure the safety of Russian tourists and, consequently, the possibility of resumption of flights to Egypt.
A Russian Kogalymavia Airbus A321 passenger plane, en route from Egypt's Red Sea resort of Sharm el-Sheikh to St. Petersburg, crashed in the Sinai Peninsula on October 31, 2015, killing all 217 passengers and seven crewmembers.
Russian President Vladimir Putin on November 8, 2015, issued a decree on measures to ensure Russia's national security and protection of Russian citizens from criminal and other illegal actions, which suspends flights to Egypt.
On November 17, 2015, the Russian authorities qualified the disaster as a terrorist attack after concluding that it was caused by the explosion of a bomb aboard the airliner.
All rights reserved by Rossiyskaya Gazeta.