Russian Investigative Committee gives ICC data on S.Ossetia conflict crimes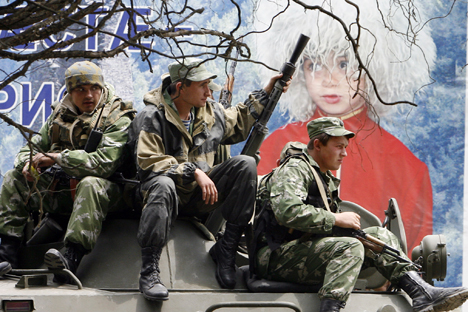 On Aug. 8, 2008, a conflict that has since become known as the Five-Day War or the Russo-Georgian war broke out in the breakaway Georgian region of South Ossetia.
Reuters
Committee conducted an inquiry into the facts of mass killings of Russians
The Russian Investigative Committee has provided the International Criminal Court (ICC) with the files of a criminal case opened into the crimes committed during the 2008 armed conflict in South Ossetia, Investigative Committee director Alexander Bastrykin has said.
"The Investigative Committee of Russia conducted a thorough investigation into the crimes committed by the Georgian military," Bastrykin was quoted as saying by Investigative Committee spokesman Vladimir Markin.
During this inquiry, Russian investigators "also used developments from the Institute of State and Law of the Russian Academy of Sciences," he said.
According to Markin, Bastrykin said this at a session of the Academic Board of the Institute of State and Law.
"Yesterday, the International Criminal Court in The Hague launched a process to investigate the crimes committed during the armed conflict in South Ossetia in 2008," Markin said.
In the early hours of August 8, 2008, Georgian forces first fired Grad multiple-launch rocket systems at Tskhinvali, and then tried to seize the city. A considerable part of South Ossetia's capital was destroyed during those events. On August 8, Russia deployed its armed forces to South Ossetia as part of an effort to defend the republic, where Russian citizens form a majority of its population. Georgian soldiers were pushed from the region after five days of fighting.
The Main Investigative Department of Russia's Investigative Committee conducted a criminal inquiry into the facts of genocide, and the mass killings of Russian citizens and peacekeepers, on the territory of South Ossetia using banned methods and means of warfare and mercenaries.
All rights reserved by Rossiyskaya Gazeta.