Russian artists perform for troops at Syrian Hmeimim air base
The Alexandrov ensemble performed in front of the Russian troops in Syria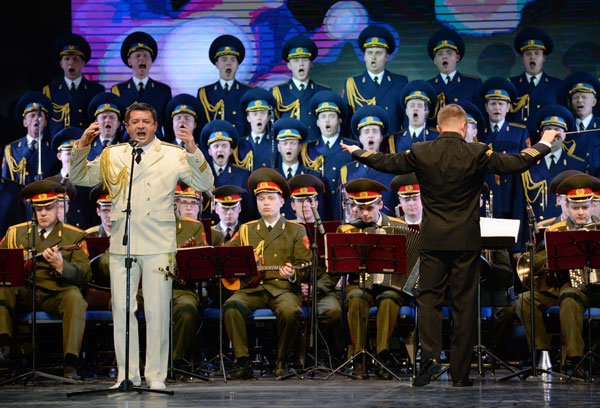 Members of the Alexandrov Russian Army song and dance ensemble perform at the VII International Winter Festival Arts. Source: Vladimir Vyatkin / RIA Novosti
The Alexandrov academic song and dance ensemble and Russian pop singers Vika Tsyganova and Denis Maidanov performed in front of the Russian troops at the Hmeimim air base in Syria.
This kind of cultural events involving Russian artists are held here on a regular basis. Previous performers at the Hmeimim base include a choir from the Valaam Monastery and the Agatha Christie rock bank which played its famous hits here on January 25. All this, according to representatives of the Russian Armed Forces, is meant to boost the morale of the troops who are on an important mission - to crush terrorism in Syria which today is one of the main threats to international security.
"On my chest is a photograph of [Oleg] Peshkov, the commander of the aircraft that was shot down, and for me it is an honor to perform here today. Today we sang the 'Ballade about fight' that we dedicated to the [Sukhoi] Su-24 commander and the military duty he had fulfilled till the end," singer Maidanov told reporters.
He also said that it was a great honor for him to perform at a military base "where he is really needed" at this difficult time for the troops.
"These guys who are with me now need us, they are charged with positive energy, wonderful spirit and optimism. For our part, we are seeing a fantastic military unit and the level of our army in executing military tasks," the artist said.
Prior to the event, head of the Russian Defense Ministry's culture department, Anton Gubankov, told reporters and today there is already a whole queue of creative people from Russia willing to perform at Hmeimim to support their fellow citizens on the military mission in Syria's Latakia.
"We have already conducted over ten events of this kind, and I want to note and stress that we have had a huge line formed of artists and creative people who want to support our troops. We literally have an endless stream [of them]: everyone is being so understanding of the need to support the combat spirit that is already fairly high," Gubankov said.
Meanwhile, combat aviation never ceased work while the concert was taking place, with helicopters continuing to hover over the base and bomber and attack aircraft taking off from the airfield as usual.
All rights reserved by Rossiyskaya Gazeta.