Russian Defense Ministry: Russian aircraft did not violate Turkish airspace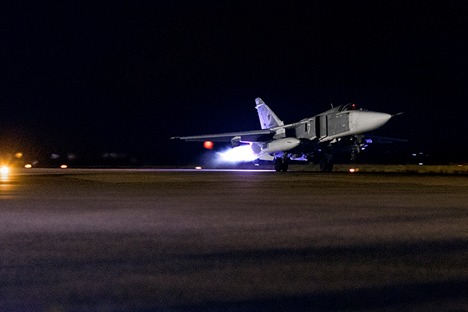 Russian aviation in Syria
Mil.ru
Ministry dismissed Ankara's claim that aircraft violated Turkish airspace
The Russian Defense Ministry has dismissed Ankara's claim that a Russian military aircraft had violated the Turkish airspace.
"There has been no violation of the Turkish airspace by aircraft of the Russian aviation group in the Syrian Arab Republic. Turkey's allegations that a Russian [Sukhoi] Su-34 aircraft violated its airspace is baseless propaganda," Russian Defense Ministry spokesman Igor Konashenkov told Interfax on Jan. 30.
"I am certain that even Turkish air defense specialists know that radars which monitor the airspace can only register the height, course and speed of an object in the air. No such radar can identify the type and nationality of an aerial object, whether it is Russia's or of the so-called anti-ISIS coalition led by the U.S.," Konashenkov said.
"This is only possible with the help of direct visual contact from another aircraft, and there was not any," he said.
"Only incompetent propagandists who watched too many Hollywood action movies could say seriously that someone warned someone also 'in Russian and English' with the help of these radars," Konashenkov said.
"For our part, we can categorically state that neither the Russian air defense systems in Syria, nor the Syrian radars monitoring the airspace have recorded any violation of the Syrian-Turkish border, let alone any voice contact long discontinued between Turkey and our pilots," the Russian defense official said.
All rights reserved by Rossiyskaya Gazeta.