Sukhoi to supply four SSJ-100s for Egyptian travel firm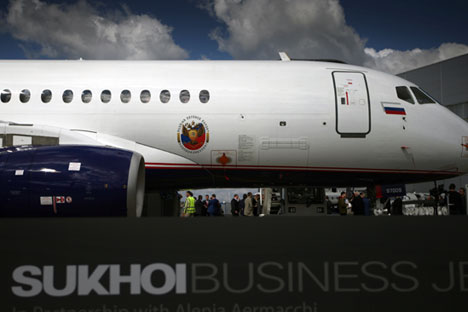 Sukhoi, Egyptian Leisure signed a memorandum on the delivery of 4 aircrafts
Sukhoi Civil Aircraft Company (SCAC) and Egyptian Leisure, an Egyptian travel company, have signed a memorandum on the delivery of four SSJ-100 aircraft to Egypt, with an option on six more machines.
A fixed contract for the delivery of the airliners will be signed before this May, SCAC President Ilya Tarasenko told Interfax earlier.
Russia's Industry and Trade Minister Denis Manturov said earlier that four SSJ aircraft will be shipped to Egypt, first under an operating lease, switching to a financial one after 18 months, "and with a subsequent additional option on six more machines for tourist transportation within the region."
Talks also continue with Egypt Air, an airline company, over a delivery of 12 SSJ-100s (with an option on 12 more units), Tarasenko said. SCAC is working with Egyptian colleagues on the itinerary network, while holding parallel discussions of contractual terms, Tarasenko said.
"Perhaps, there won't be a tender as such [which was expected to be announced in October 2015], so now the ball is in our partners' court. They are simply deciding on the purchase scheme they will have. But I repeat that we are working out all contractual terms with them," the top manager added.
All rights reserved by Rossiyskaya Gazeta.