Kissinger and Putin held exchange of opinions on global policy topics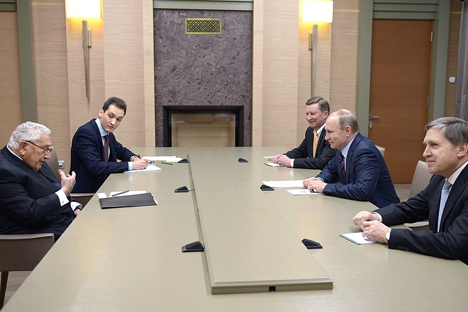 Vladimir Putin met with former US Secretary of State Henry Kissinger at his Novo-Ogaryovo residence outside Moscow, Feb. 3, 2016.
Kremlin.ru
Vladimir Putin met Henry Kissinger on Feb. 3
Former U.S. Secretary of State Henry Kissinger visited Russia in a personal capacity, and at their meeting, he and Russian President Vladimir Putin exchanged opinions on current global policy issues, Kremlin spokesman, Dmitry Peskov, has said.
"He [Kissinger] visited in a personal capacity. A matter of fact, all of the latest visits - in 2013 and 2010, when Putin was [Russia's] prime minister, and before that, as well as when Putin visited Kissinger in America - represent a consistent communication, which has a long-long tradition," Peskov told reporters on Feb. 4.
During their meeting in Moscow on Feb. 3, Putin and Kissinger "exchanged opinions on current issues," he said.
All rights reserved by Rossiyskaya Gazeta.