Moscow suspects Ankara of plotting military invasion of Syria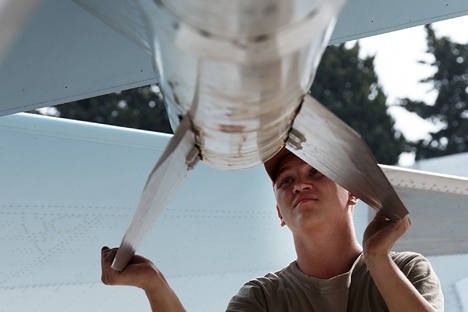 Russian aviation group in Syria.
EPA
Russian Defense Ministry spokesman said Turkey preparing invasion of Syria
What is happening on the Turkish-Syrian border attests to Turkey's intensive preparations for a military invasion of Syria, Russian Defense Ministry spokesman Igor Konashenkov has said.
"We have serious reasons to suspect Turkey of intensive preparation for a military invasion of a sovereign state - the Syrian Arab Republic [...] We are seeing more and more signs of a hidden preparation by the Turkish armed forces for active operations in Syrian territory," he told reporters on Feb. 4.
Earlier the Defense Ministry presented video footage showing Turkish self-propelled artillery systems shelling Syrian populated areas in northern Latakia, he said.
"We are surprised that talkative representatives from the Pentagon, NATO and multiple so-called organizations for the protection of human rights in Syria, despite our appeal to react to these actions, are still keeping silent," Konashenkov added.
The Russian Defense Ministry has intensified all types of intelligence operations in the Middle Eastern region, he said. "Therefore, if someone in Ankara thinks the cancellation of the flight of Russian inspectors will allow [them] to hide something, then this is unprofessional," the Russian Defense Ministry spokesperson said.
All rights reserved by Rossiyskaya Gazeta.