Lavrov and Kerry call for swift ceasefire in Syria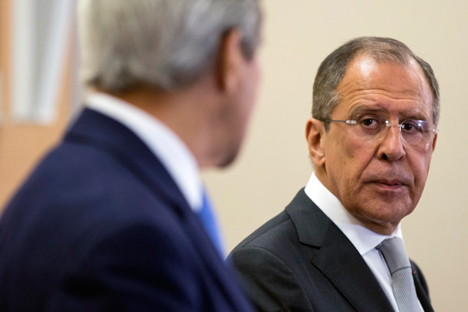 Russian Foreign Secretary Sergey Lavrov and U.S. Secretary of State John Kerry.
AP
Sergei Lavrov and John Kerry discussed ceasefire in Syria by phone
Russian Foreign Minister Sergei Lavrov and the United States Secretary of State John Kerry have spoken by telephone to discuss a possibility of reaching agreement over swift ceasefire in Syria.
"The pair expressed the same view on the need to seek swift ceasefire and ensure humanitarian access to all besieged populated areas, and considered a possibility of reaching relevant agreements in the context of implementation of the UN SC [United Nations Security Council] Resolution N2254," the Russian Foreign Ministry has said.
"It was confirmed that the requirements of this resolution as to the format and dates of the talks between Syrian government and opposition representatives allow no pre-conditions or ultimatums," the ministry said.
All rights reserved by Rossiyskaya Gazeta.