Russian planes destroy 9 trucks carrying ammunition in northwestern Syria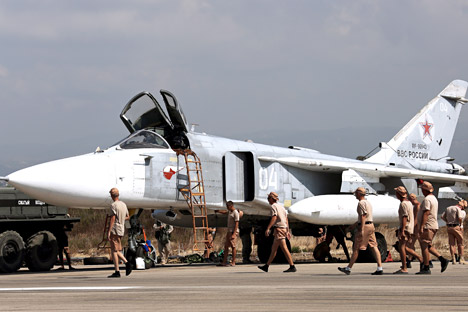 Russia's Sukhoi Su-24 attack aircraft at the Hmeimim airbase.
TASS
Sukhoi Su-25 attack planes detected convoys of vehicles carrying militants
Russian attack planes have destroyed nine trucks carrying ammunition and militants in the Latakia governorate in Syria, Russian Defense Ministry spokesman Igor Konashenkov told journalists on Feb. 11.
"[Sukhoi] Su-25 attack planes detected three convoys of vehicles carrying militants, weapons, and ammunition while on air patrol along the Al Qaryatayn-Homs road. An airstrike was delivered upon this concentration of terrorist hardware. It was determined following final reconnaissance that nine heavy trucks with ammunition on board, two armored vehicles, and over 40 militants were destroyed," Konashenkov said.
The airstrikes also destroyed a stronghold and a mortar position belonging to terrorists near the community of Bruma, the Latakia governorate, Konashenkov said. Readout data confirm the full destruction of the battery and the engineering installations, he said.
"An Su-34 bomber struck a militant stronghold of the terrorist group ISIS near the town of al-Gharya al-Gharbia, the Daraa governorate. The stronghold was fully destroyed by a guided round of ammunition. Readout data confirm the destruction of two armored vehicles belonging to militants," he said.
All rights reserved by Rossiyskaya Gazeta.