Patriarch Kirill arrives in Cuba for meeting with Pope Francis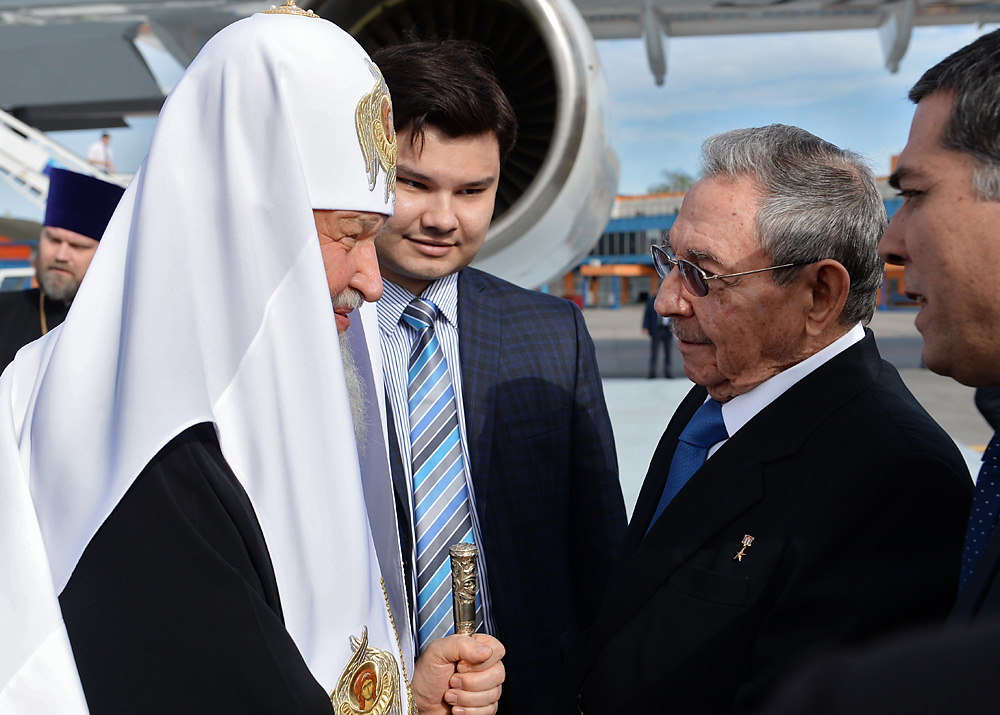 Patriarch of Moscow and All Russia Kirill and President of the Council of State of Cuba Raul Castro during a meeting in Havana airport.
Sergey Pyatakov/RIA Novosti
The Patriarch is also planned to meet with Fidel Castro
Patriarch Kirill of Moscow and all Russia arrived in Cuba, the first leg of his Latin American tour.
The Primate of the Russian Orthodox Church is visiting Cuba at the invitation of Council of State President Raul Castro.
The first-ever meeting between the Moscow Patriarch and the Pope of Rome will take place in Havana International Airport on Feb. 12. The meeting has been on the agenda of the inter-church relations for about 20 years.
Pope Francis admitted a few days ago that the meeting had been being secretly prepared for two years. The dates of the Patriarch's trip to Latin America and the Pontiff's visit to Mexico coincided and gave a chance to organize the historic event in the New World.
Persecution of Christians will be the central item of the meeting. Against the backdrop of the situation in the Middle East and Africa, the churches decided to put aside their differences and to pool efforts for saving Christians from genocide. A joint declaration will be signed at the end of the meeting.
Patriarch Kirill visited Cuba when he was still a metropolitan and met with Cuban leaders. He supervised the construction of the Our Lady of Kazan Icon Church in Havana and consecrated it.
In recent years, Raul Castro repeatedly invited Patriarch Kirill to visit Cuba but the visit was delayed because of the Primate's visits to eparchies in the near abroad and other Orthodox Churches.
The visit to Cuba, which has a 15,000-strong Russian community, is timed to coincide with the 45th anniversary of consecration of the Church of St, Constantine and Helena, the first church of the Moscow Patriarchate in Havana.
The Patriarch is also planned to meet with Fidel Castro, visit a children's rehabilitation center and deliver a service in the Kazan Church.
All rights reserved by Rossiyskaya Gazeta.