Yatsenyuk: Ukraine lives through first winter without Russian gas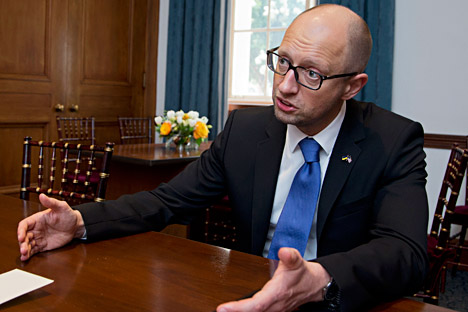 Ukrainian Prime Minister Arseniy Yatsenyuk.
AP
Arseniy Yatsenyuk thanked the EU and the World Bank for the assistance
Ukraine will be able to complete the heating season without buying Russian gas, Prime Minister Arseniy Yatsenyuk has said.
"I would like to tell you that we will live through the winter without Russian gas for the first time in the entire history of Ukraine," the prime minister told diplomats in Kiev on Feb. 12. He said the Naftogaz reform had made that happen.
"This is a real reform and a real step towards diversification of natural gas supply by Ukraine," Yatsenyuk said.
He thanked the EU, the EBRD, the World Bank and other international partners for the assistance which helped Ukraine achieve "real diversification and energy independence."
Ukraine cut gas imports 15.9 percent (3.1 billion cubic meters) year-on-year in 2015 to 16.4 billion cubic meters.
The amount of Russian gas imported by Ukraine in 2015 stood at 6.1 billion cubic meters or 2.4 times less than in 2014 (14.5 billion cubic meters).
Upon the end of the tripartite negotiations in September, Naftogaz bought from Gazprom 2 billion cubic meters of gas in October, and almost 400 million cubic meters in November. The purchases stopped on November 25, and Ukraine lived on cheaper gas imported from Europe, locally produced gas, and reserves from underground gas storages.
All rights reserved by Rossiyskaya Gazeta.