FSB: No Turkish trace visible in A321 bombing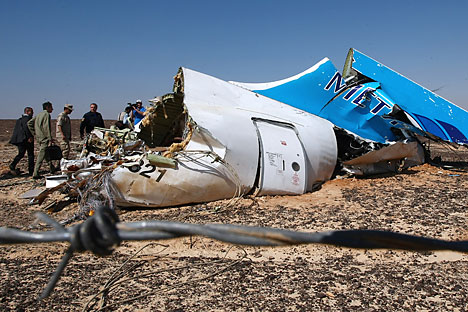 Wreckage of Russian Airbus A321 at the site of the crash in Sinai, Egypt.
EPA
The investigation is in progress
The Federal Security Service does not see a Turkish trace in the Russian A321 plane's bombing in Sinai.
"We do not see a Turkish trace, and the investigation is in progress," Federal Security Service head Alexander Bortnikov said on Feb. 16, answering an Interfax question.
A Kogalymavia A321 aircraft en route from Sharm El-Sheikh to St. Petersburg crashed on October 31. The airliner crashed on the Sinai Peninsula 23 minutes after takeoff, killing 217 passengers and seven crewmembers.
Russian presidential press officer Dmitry Peskov told reporters that Russian special services have come to the conclusion that the crash of the Russian airliner was caused by a terrorist attack.
Russian Federal Security Service director Alexander Bortnikov said that the airplane crashed as a result of an explosion of a bomb equivalent to one kilogram of TNT aboard the aircraft.
The European media on Dec. 14 published excerpts from the statement by the Egyptian Civil Aviation Ministry on the completion of the preliminary report on the investigation into the A321 crash, which states that the committee on the technical investigation has not found anything pointing to illegal interference or a terrorist act.
All rights reserved by Rossiyskaya Gazeta.