Patriarch Kirill: Mankind has no future without return to moral values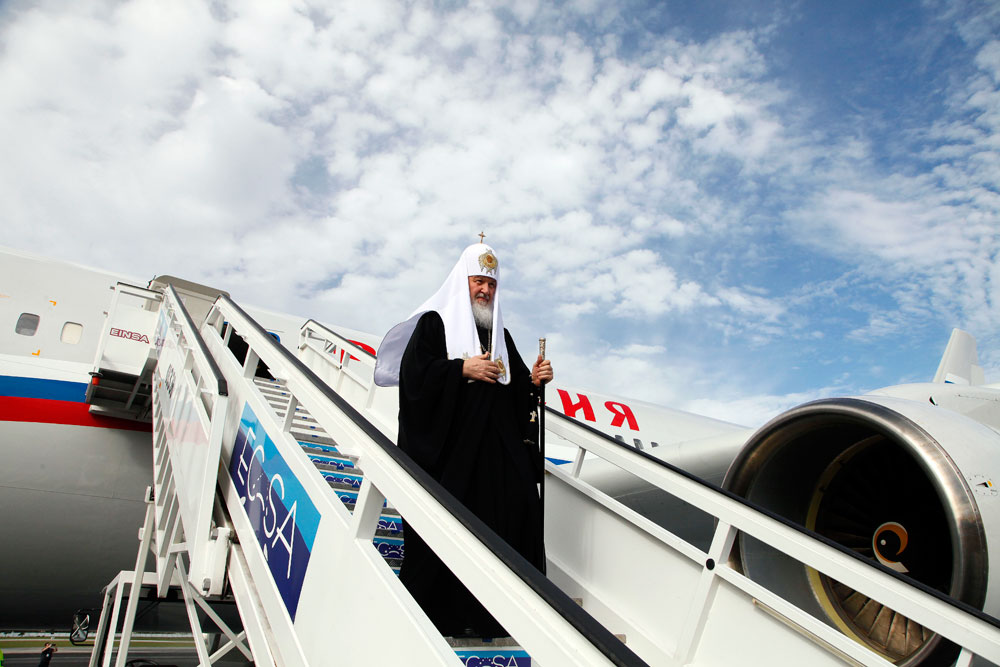 Russian Orthodox Patriarch Kirill exits his plane at the Jose Marti International airport in Havana, Cuba.
AP
He said it's possible to overcome conflicts on the basis of moral values
Patriarch Kirill of Moscow and All Russia believes that it is possible to overcome global conflicts and disagreements only on the basis of moral values, which are common for the world's religions, and were present "at some stage of the development of secular humanism".
In an interview, shown on the Russia Today television station on Feb. 16, the patriarch spoke about his recent meeting with Pope Francis, and how both of them realized that "it is possible to find answers together", and "do it easily".
"...Because we had our faith in Lord Jesus Christ, in his commandments and laws as our moral consensus. But, the same laws and commandments can be found in Muslim religion and even in secular humanism, at least they were there at some stage of development of secular humanism," the head of the Russian Orthodox Church said.
"The Universal Declaration of Human Rights refers to human morality as a limitation to human rights. But, in today's world human morality is no longer a limitation to human freedom," he said.
"Unfortunately, today we are moving away from things that have always united us on the deepest ontological level," Patriarch Kirill said.
"I believe that if this tendency continues, the prospects for humanity, for our world are very bad. We cannot live together on one small globe if we are torn by deep ontological contradictions," he said.
"I believe my meeting with the pontiff, at least to some extent, contributed to building a future moral consensus between all people," Patriarch Kirill said.
Pope and Patriarch meeting Why has the world waited so long for a Catholic-Orthodox reconciliation?
All rights reserved by Rossiyskaya Gazeta.