Source: Moscow unaware of U.S. 'plan B' for Syria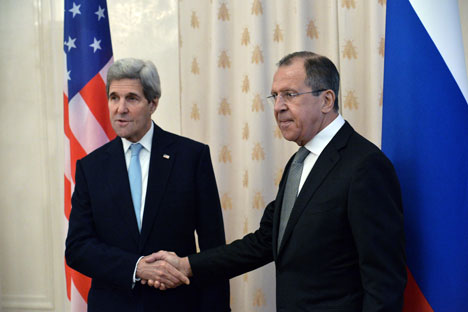 Russian Foreign Minister Sergey Lavrov meets with U.S. Secretary of State John Kerry.
Ramil Sitdikov / RIA Novosti
The practical implementation of the Russia-U.S. agreement has already begun
Russia is unaware of a 'plan B' allegedly declared by the United States in case the Syria truce fails; the practical implementation of the Russia-U.S. agreement on Syria has already begun.
"We know nothing about any 'plan B'," a source in the Russian Foreign Ministry told Interfax on Feb. 24.
"The practical implementation of the agreement has begun. The U.S. side should not give up ahead of time," the source said.
"It was the question of coordinating a joint statement. All effort should now be hurled towards its implementation," the source said.
The Wall Street Journal has reported, with reference to its sources, that a number of senior officers from the U.S. administration were looking for ways to step up the pressure on Moscow because they were certain that it would not honor the Syria ceasefire deal.
Russia and the United States agreed on a truce in Syria on February 22; it is planned to take effect on February 27.
Read more:
An official of the defense attache's office at the U.S. Embassy to Moscow was invited to the Russian Defense Ministry
The Coordination Center is tasked to conclude agreements on ceasefire
All rights reserved by Rossiyskaya Gazeta.