Hundreds of people take part in Nemtsov memorial rally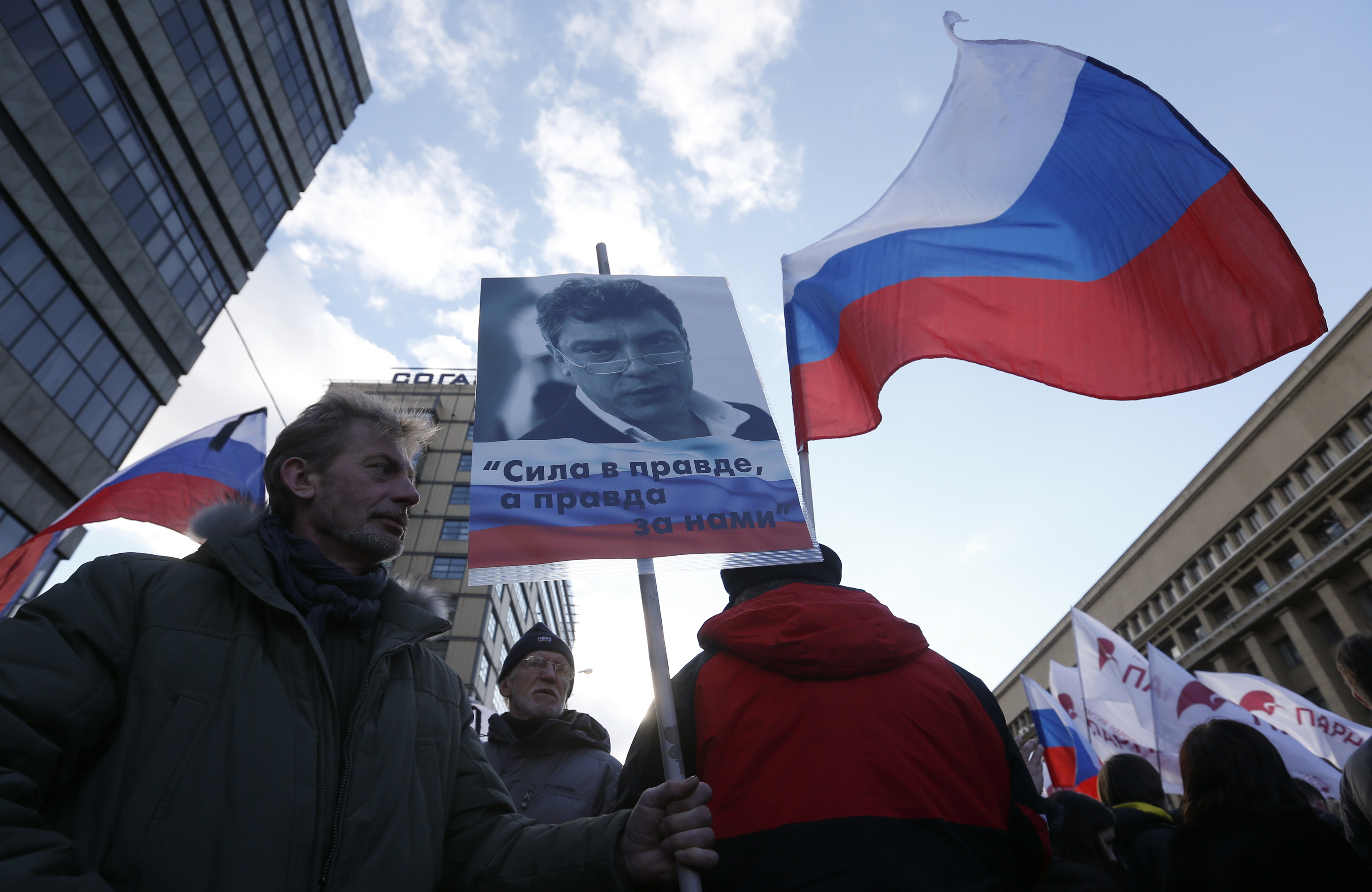 The placard reads 'Strength is in truth, and truth is with us'.
Reuters
Memorial marches held in Moscow, St. Petersburg, Kemerovo, Barnaul
About 7,500 people took part in a march in Moscow on Feb. 27 in commemoration of opposition politician Boris Nemtsov, who was killed a year ago, the Moscow city police department told Interfax.
Meanwhile, the march organizers have estimated the number of its participants at 100,000.
At the same time, based on the readings of the so-called White Counter, i.e. a mobile counter recording the number of people passing through stationary metal detectors at the entrances to the demonstration venue, over 24,000 people had joined the march.
People take part in a rally in memory of Nemtsov on the first anniversary of his murder in Moscow. Source: Reuters
"As of 2:45 p.m., 24,200 participants showed up for the commemoration march. Police have blocked the entrance and are barring a group of 200 people," the White Counter service reported via Twitter.
An Interfax correspondent reported from the scene that the marchers stretched from Rozhdestvensky Boulevard to the end of Petrovsky Boulevard. Some of them demanded that those who put an assassination contract for Nemtsov be brought to justice and chanted anti-government slogans.
Yabloko opposition party founder Grigory Yavlinsky says the killing of Nemtsov dashed the hopes for Russia's post-Soviet modernization.
"Boris Nemtsov's murder a year ago marked the end of the evolution of government in a post-Soviet Russia and it would be safe to say it marked the end of the entire post-Soviet period of hopes in general," Yavlinsky said at a party congress on Feb. 27.
About 2,000 people have attended a rally in St. Petersburg, a regional police spokesperson told Interfax.
Small rallies have been held in Kemerovo and Barnaul, Interfax correspondents reported.
Russian anti-corruption campaigner and opposition figure Alexei Navalny (R) brings flowers to the place of Nemtsov's murder in Moscow. Source: Reuters
Opposition leader and former Russian first deputy Prime Minister Boris Nemtsov has died after being shot in central Moscow on Feb. 27, 2015. He was 55. According to Russia's Investigative Committee, Nemtsov was walking along the Bolshoy Moskvoretsky Bridge near the Kremlin a little after 11 p.m. when a white car pulled alongside him and fired a number of shots at point-blank range, hitting him in the back.
All rights reserved by Rossiyskaya Gazeta.