Russian-Syrian relief supplies delivered to Hama Province villages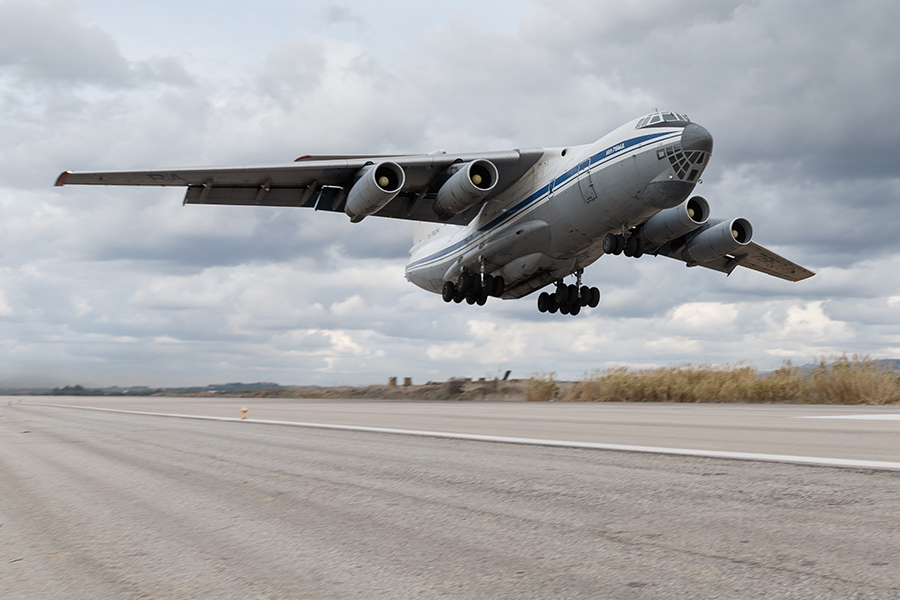 A military transport Il-76 plane at the Khmeimim airbase.
Mil.ru
Over 20 tonnes of humanitarian aid have been delivered to Syrians
More than 2,000 packages of Russian-Syrian humanitarian aid, weighing a total of 20 tonnes, have been delivered to the villages of Maarzaf and al-Qubeir in Syria's Hama Province.
A humanitarian aid package, which was given to each resident, includes two cans of fish, a can of meat, as well as two kilograms of rice, peas and beans each. Gift packages containing sweets, pastry and waffles were prepared for Syrian children.
"Almost one-third of al-Qubeir's population has been murdered by militants from Jabhat al-Nusra [outlawed in Russia]. Consequently, people are scared, and they ran away when they saw us, but came back when they understood that we brought water and food to them, as well as doctors whom they had not seen for more than three years," Russian Defense Ministry spokesman Maj. Gen. Igor Konashenkov told reporters.
The reconciliation process is proceeding at a good pace because people see for themselves the advantages of peace restoration, and are telling their acquaintances about it, he said.
"It is necessary to understand that the main instrument of spreading information about the truce is word of mouth, not the press and television, because people believe each other more this way," he said.
In Syria's reconciliation process, Russia is acting both as a guarantor and a mediator in establishing contacts, which are needed to promote confidence building measures between the sides in the conflict, Konashenkov said.
"At this point, it is highly important not to allow in terrorist groups because a slightest provocation is enough for people to retreat into themselves," he added.
All rights reserved by Rossiyskaya Gazeta.