Putin discusses possibilities of Syrian truce with European leaders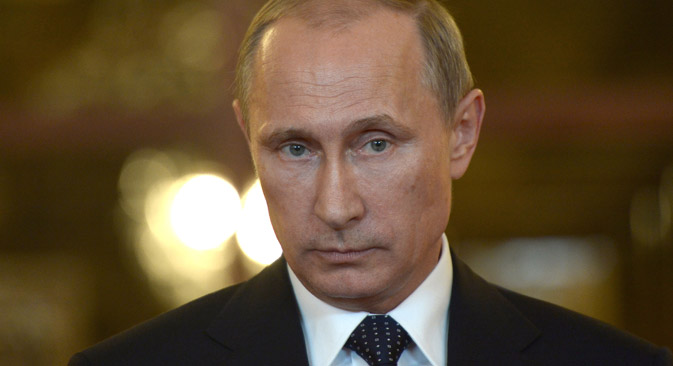 Russian President Vladimir Putin.
AFP / East News
Putin, Cameron, Merkel, Hollande and Renzi had a joint teleconference
Russian President Vladimir Putin, British Prime Minister David Cameron, German Federal Chancellor Angela Merkel, French President Francois Hollande and Italian Prime Minister Matteo Renzi had a joint teleconference on March 4, the Kremlin press service has said.
"The Russian-U.S. agreements supported by the UN Security Council were lauded. The general compliance with the truce regime and the first positive results, which, most importantly, created prerequisites for launching the political process in Syria through the organization of intra-Syrian dialogue under the UN aegis, were welcomed," the report said.
"The leaders supported the roadmap for the settlement process coordinated in the International Syria Support Group and approved by UN Security Council resolution 2254," the Kremlin said. "The Russian side noted that the decision of the Syrian authorities to hold parliamentary elections in April of this year was being implemented in accordance with the existent constitution of the Syrian Arab Republic and did not hinder steps promoting the peace process," the report said.
"Readiness to bolster joint efforts on resolving the pressing humanitarian problems was expressed. The need for strict compliance with the truce terms by all parties to the Syrian conflict and the topicality of the further fight against ISIS, Jabhat al-Nusra and other terrorist organizations was underlined," the press service said.
The leaders had a detailed discussion of Syria crisis issues in the context of the joint statement of Russia and the United States, the cochairs of the International Syria Support Group, on the cessation of hostilities in the country on February 27. "The exchange of opinions was businesslike and interested. It was agreed to actively assist in the efforts of the International Syria Support Group and Special Envoy of the UN Secretary General Staffan de Mistura, which could put an end to the long-lasting bloodshed and violence in Syria," the report said.
All rights reserved by Rossiyskaya Gazeta.