Participants in pro-Savchenko protest hurl eggs at Russian embassy in Kiev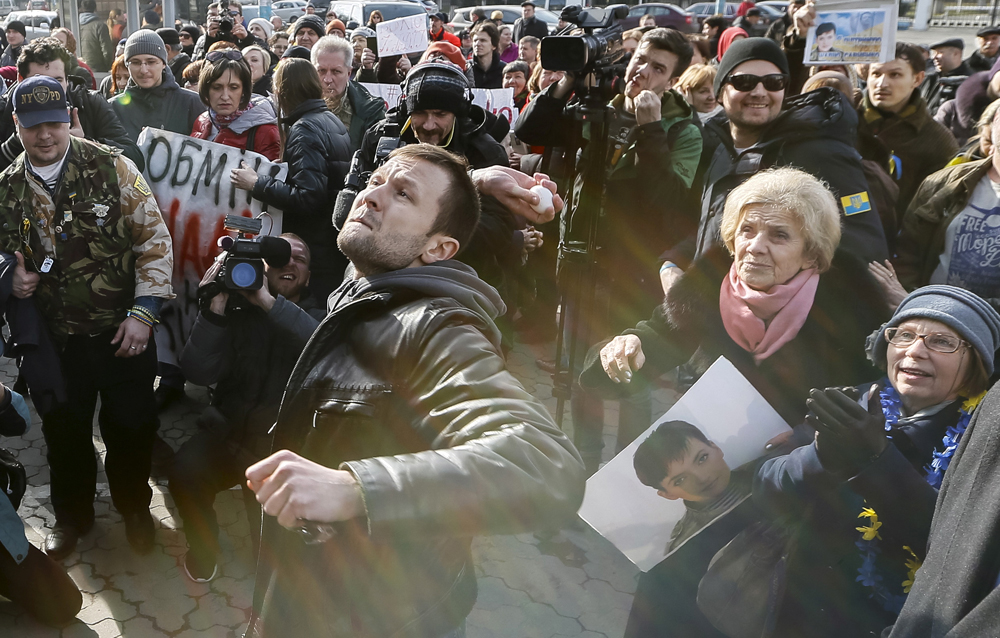 A protester throws an egg toward a building of Russian embassy during a rally demanding liberation of Savchenko by Russia, in Kiev.
Reuters
Some 200 people remain near the embassy
Participants in the picket at the Russian embassy in Kiev's Vozdukhoflotsky Avenue have hurled eggs at the building of the diplomatic mission.
After that, an unknown man dressed in civilian clothes and carrying a radio set approached the protesters from amongst the security guards and crushed one of the egg boxes by treading on it, an Interfax correspondent reported. In response, one of the protesters broke an egg on his head.
It all happened after Batkivschyna leader Yulia Tymoshenko led the picket in support of Ukrainian pilot Nadiya Savchenko, who is held in custody in Russia since July 2014.
The other parliamentarians who took part in the picket are no longer visible in the area.
The protesters are now gradually leaving. Some 200 people remain near the embassy.
According to earlier reports, the protest, which began at 11:00 a.m. local time, turned rather calm. Some protesters earlier hurled small stones in the direction of the embassy building. One egg and a bottle of iodine were also thrown.
According to Russian investigators, Ukrainian Armed Forces officer Nadiya Savchenko was at a base of the Aidar battalion near the town of Metalist, Slovianoserbsk district, Lugansk region on June 17, 2014. She was conducting secret observation and adjustment of artillery fire on a Lugansk militia roadblock where civilians, including three journalists from Russia's VGTRK broadcaster, were present. The shelling killed two Russian journalists, Igor Kornelyuk and Anton Voloshin. Savchenko denies all charges.
All rights reserved by Rossiyskaya Gazeta.