Savchenko says in her final statement she doesn't recognize court sentence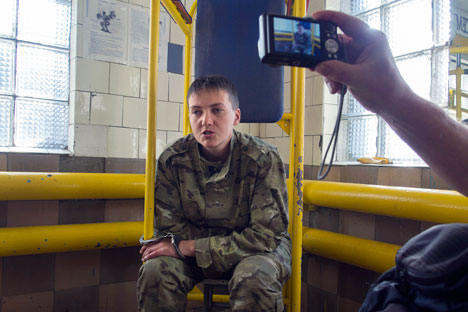 Ukrainian pilot Nadiya Savchenko.
AP
Sentence to be handed out to Ukrainian pilot Savchenko on March 21-22
Ukrainian pilot Nadiya Savchenko, who is charged with involvement in the killing of Russian journalists, said in her final statement in the Donetsk City Court on March 9 that she is innocent.
"I do not recognize the guilt or the sentence handed down by the Russian court. If I am convicted, there will be no appeal. After the sentence, I continue my hunger strike for another ten days. In ten days, I go on a dry hunger strike, and then Russia has ten days to take me to Ukraine," Savchenko said in Ukrainian.
According to Russian investigators, Ukrainian Armed Forces officer Nadiya Savchenko was at a base of the Aidar battalion near the town of Metalist, Slovianoserbsk district, Lugansk region on June 17, 2014. She was conducting secret observation and adjustment of artillery fire on a Lugansk militia roadblock where civilians, including three journalists from Russia's VGTRK broadcaster, were present. The shelling killed two Russian journalists, Igor Kornelyuk and Anton Voloshin. Savchenko denies all charges.
She has been held in custody in Russia since July 2014. Savchenko said at a meeting of the Donetsk City Court on December 17, 2015, that she would be on a hunger strike until the end of the trial.
She also announced a 'dry' hunger strike and refused to drink water on March 4.
The Donetsk City Court will be handing out a sentence to Savchenko for two days, an Interfax correspondent has reported.
"The court will give its decision on March 21 and 22. The hearing will begin at 11:00 a.m. Moscow time," the chairman of the collegium of judges said.
All rights reserved by Rossiyskaya Gazeta.