3 persons who threw Molotov cocktails into Russian Embassy in Kiev released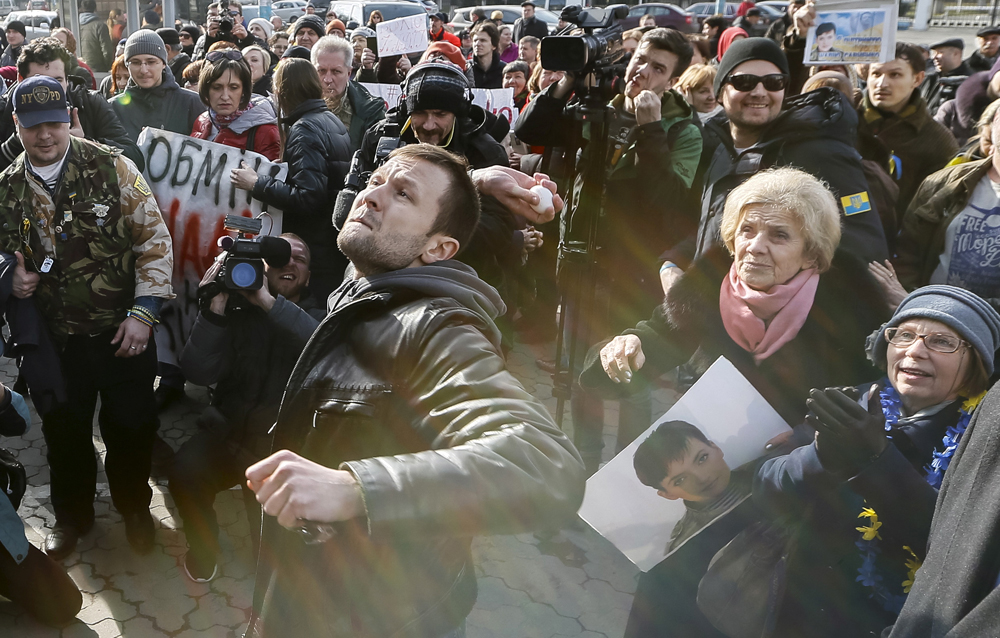 A protester throws an egg toward a building of Russian embassy during a rally demanding liberation of Ukrainian army pilot Nadezhda Savchenko by Russia, in Kiev, Ukraine.
Reuters
Security has now been increased around the Russian Embassy building
Officers of Ukraine's law enforcement agencies detained three people who threw bottles filled with an unknown highly flammable substance into the Russian Embassy's compound in Kiev, but released them after an interrogation, the Main Department of Ukraine's National Police said in a press release.
"At around 4:00 a.m. today, a woman and two men threw three bottles with an unknown substance, which subsequently started to burn, into the premises of a foreign state's embassy," it said.
Investigators who arrived at the site confiscated a cigarette lighter, fragments of glass dishware and two bottles filled with liquid. The items were sent for examination.
Shortly afterwards, officers of law enforcement agencies identified these three people involved in the attack. The woman, born in 1984, introduced herself as the editor-in-chief of a print publication. She was accompanied by two men, born in 1964 and 1979. The suspects were taken to the Solomenska police station, were interviewed and then released, the National Police said.
The investigative department of Kiev's Solomenska police station has opened a criminal inquiry into the incident on a count of 'deliberate destruction of or damage to property'. The police are now working to establish all circumstances of what happened.
Information earlier appeared on social networking websites that journalist, human rights campaigner and EuroMaidan activist Irma Krat was among those who attacked the Russian Embassy.
Press officer for the Russian Embassy in Ukraine Oleg Grishin told Interfax that several bottles filled with flammable liquid had been thrown into the Russian diplomatic mission's compound in Kiev, but no fire broke out.
"At around 3:00 a.m., several Molotov cocktails were hurled into the embassy compound. Luckily, no fire erupted," he said.
Security has now been increased around the Russian Embassy building, located on Povitroflotsky Avenue in Kiev.
All rights reserved by Rossiyskaya Gazeta.