First group of Su-34 bombers returns from Syria to airbase near Voronezh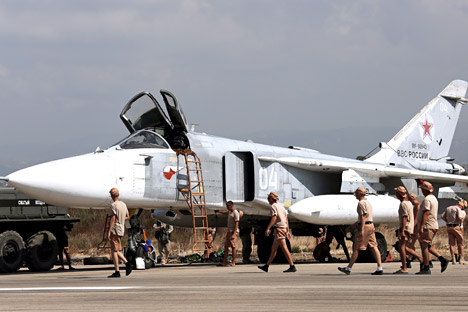 Aerospace Forces Commander welcomed the pilots on their return
Video by Russian Defense Ministry / YouTube
The first group of Sukhoi Su-34 multirole fighter-bombers returned from Syria to an airbase near Voronezh on March 15 afternoon, the Russian Defense Ministry said.
"Before landing, the planes flew over the airfield at a low altitude in a parade formation and performed a 'dispersed' aerobatic figure," a representative of the ministry's press service and information department said.
Aerospace Forces Commander Col. Gen. Viktor Bondarev welcomed the pilots on their return from the important combat mission.
The welcoming party also included the pilots' wives, children, other family members and friends.
All rights reserved by Rossiyskaya Gazeta.