Russian S-400 systems may stay in Syria for a while - Federation Council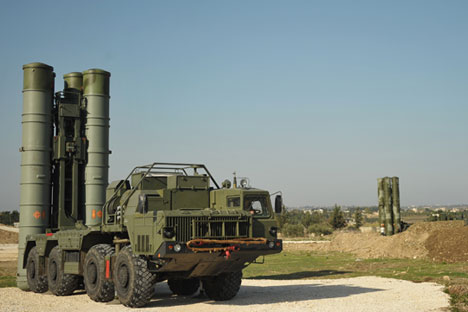 An S-400 air defence missile system at the Hmeymim airbase.
Ria Novosti/Dmitry Vinogradov
Approximately 1,000 people will remain at Russia's bases in Syria
Russia may keep its S-400 surface-to-air missile systems in Syria for a while, the chairman of the Russian Federation Council's defense and security committee, Viktor Ozerov, has said.
"[S-400 missile systems] may stay [in Syria] for a certain period of time," Ozerov told Interfax on March 15.
"When we see that events in Syria develop in a way that is in line with today's vision of the president, the General Staff and the Defense Ministry, when it is seen that the political component will move forward successfully, and the Syrian army and police will be capable of destroying hotbeds of terrorism in Syria on their own, then we will possibly think about the S-400 [systems]," he added.
Approximately 1,000 people will remain at Russia's bases in Syria after Russian troops leave the country, he said.
"We will keep our two bases: an air force base and a naval one. These bases need to be at least protected. It is two battalions - 800 people - at least. We retain the right to conduct aerial reconnaissance. It means that some of the airplanes with their crews will stay," Ozerov said.
Some of the Russian Navy's ships and the main contingent of the Aerospace Forces may be withdrawn, he added.
Military specialists who train the Syrian army will stay in Syria, Ozerov said.
It became known earlier that Russian President Vladimir Putin ordered the main part of the Russian group to be withdrawn from Syria from March 15 because the task set to the Defense Ministry had been accomplished.
The Russian president said that the Russian armed forces bases in Tartous and Hmeimim would function as previously, and they should be reliably protected from ground, sea and air.
The Russian Aerospace Forces launched their operation in Syria on September 30, 2015. Russian bombers and assault aircraft, which carried out strikes against terrorist facilities, were deployed at the Hmeimim airbase in Latakia Province. The operation also involved long-distance airplanes and ships of the Caspian Flotilla in the Black Sea, which used Kalibr cruise missiles to conduct strikes against terrorists. The Russian Armed Forces' marines and airborne troops guarded the airfield. Air defense systems, including S-400 surface-to-air missile systems, were also deployed to protect the Russian air force in Latakia.
All rights reserved by Rossiyskaya Gazeta.