Russians citizens on trial in Kiev to remain in custody till May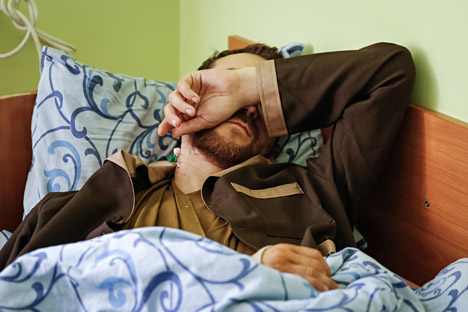 Yevgeny Yerofeyev lies on a bed at a hospital in Kiev, Ukraine, May 19, 2015.
EPA
Suspected Russian servicemen were detained in eastern Ukraine in 2015.
The Holosiyivskiy District Court in Kiev has extended until May 19 the custody period for Russian citizens Yevgeny Yerofeyev and Alexander Alexandrov held in a hostilities zone in the Lugansk region in May 2015.
The court made the decision at the prosecutor's request at a hearing on March 21, an Interfax correspondent said.
Alexandrov's new lawyer, Valentin Rybin, who is replacing Yuri Hrabovsky, who has gone missing, asked the court to allow him to examine the case files until April 11, when the defendants' custody period was due to expire.
Yerofeyev's lawyer, Oksana Sokolovska, insisted on house arrest.
The court also ruled to continue the case hearings on April 5, having thus given Rybin time to examine the case files.
Yerofeyev and Alexandrov were detained near the town of Shchastya, in the Lugansk region, on May 16, 2015. Kiev claimed they were trying to seize a strategic bridge.
On May 19, 2015 Ukrainian detectives told the Russians, whom they deemed to be servicemen from the Russian Armed Forces, that they were suspected of terrorism.
The Russian Defense Ministry said that Yerofeyev and Alexandrov were not in active military service at the time of their detention.
All rights reserved by Rossiyskaya Gazeta.