Putin welcomes Abu Dhabi prince's visit to discuss situation in Middle East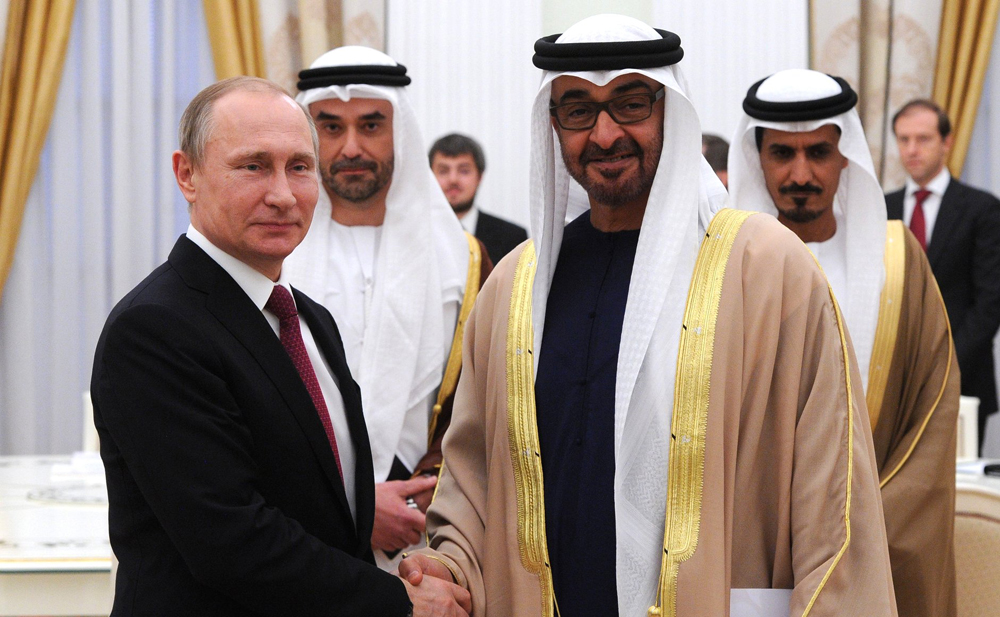 Russian President Vladimir Putin and Crown Prince of Abu Dhabi Mohammed Al-Nahyan, March 24.
Kremlin.ru
President call's prince's visit very 'timely'
Russian President Vladimir Putin has called the Moscow visit by the Crown Prince of Abu Dhabi and Deputy Supreme Commander-in-chief of the United Arab Emirates' Armed Forces, Mohammed Al-Nahyan, 'timely' in light of the need to discuss the situation in the Middle Eastern region.
"We see your visit as being very timely, given the need to discuss the current situation in the region," Putin said at the meeting with Al-Nahyan.
Overall, speaking of the Russian-UAE relations, Putin noted the good nature of the relations that have been established between the two countries' leaders.
At the same time, the Russian head of state expressed regret about the drop in bilateral trade, but said he hopes that the Russian-UAE inter-governmental commission will make a positive input in boosting trade.
"Of course, bilateral investment is an extremely important element. I know there is already a certain fund here. We will certainly welcome and support it," Putin said.
For his part, Al-Nahyan said he is glad to be in Moscow. He noted the importance of regular dialogue between Russia and the UAE both on bilateral issues and on the subject of stabilization of the Middle East.
"We very much believe in the development of our relationship, and always aim to develop it in such a way as to make it a solid foundation for our future cooperation," he said.
All rights reserved by Rossiyskaya Gazeta.