Diplomat: No plans to reopen Russian radar center in Cuba's Lourdes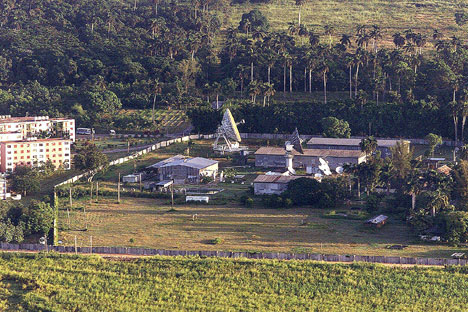 The radio intelligence center at Lourdes began operating in 1967, first under the Soviet Union, then Russia, and continued functioning until 2001.
AFP / East News
'No steps are expected to be taken to restore it', Shchetinin said
Russia does not plan to reopen its radar center in Lourdes, a suburb of Cuba's capital Havana, but does not rule out negotiations on setting up logistics centers for the Russian Navy in Latin America, the Russian Foreign Ministry has said.
"The base in Lourdes was closed, and no steps are expected to be taken to restore it," the director of the Foreign Ministry's Latin America department, Alexander Shchetinin, said in an interview with Interfax.
At the same time, the diplomat did not rule out that Moscow may discuss with Latin American countries the possibility of setting up the Russian Navy's logistics centers on their territory.
"The issue of creating logistics centers for the Russian Navy is a matter for talks, absolutely normal, calm and well-reasoned talks... If it is deemed necessary to discuss the need for such centers with individual countries of Latin America, such conversations will take place," Shchetinin noted.
"It is linked with the need of port calls to refuel, the crew's rest, to stock up on food supplies, etc.," he added.
All rights reserved by Rossiyskaya Gazeta.