Construction of superconducting collider begins in Dubna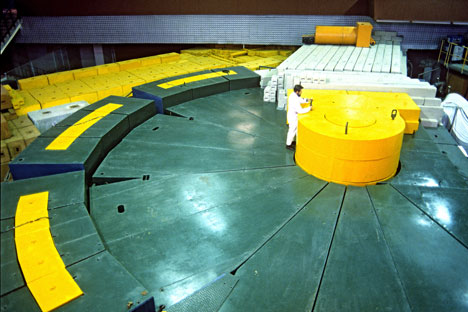 The IBR 2 pulse reactor at the Joint Institute for Nuclear Research in the town of Dubna in the Moscow Region.
Boris Babanov / RIA Novosti
The collider is due to be launched in 2019
A groundbreaking ceremony has been held for a complex of buildings and structures of the Russian superconducting collider, NICA, in Dubna, Moscow region, an Interfax correspondent reported on March 25.
"There are various situations in economy and in life, but there is something that cements the time, cements the people, and not just in Russia but from across the world, scientists - this is what these powerful projects are, they enable us to better understand the world we live in," Russian Presidential Aide Andrei Fursenko said at the ceremony.
He congratulated the staff of the Joint Institute for Nuclear Research (JINR) in Dubna on a new stage in their work "which will attract even more young specialists into the science."
For his part, Moscow region governor Andrei Vorobyov said: "This device must be operated by best-trained specialists. Young scientists who live in Dubna can support these theoretical and practical discoveries. We are interested in Dubna's development, today's project is another confirmation that there will be fundamental science in Russia."
The regional governor wrote on his Instagram account that the collider is due to be launched in 2019. "The installation will make it possible to conduct unique research," he said.
It was reported that the NICA collider is a JINR project conducted as part of Russia's mega-science projects. The collider is expected to provide answers to a number of important questions in fundamental physics.
The project involves 16 Russian institutes and organizations and 79 institutes from 30 foreign countries.
All rights reserved by Rossiyskaya Gazeta.