Foreign Ministry: Russian air operation Syria not aimed at backing al-Assad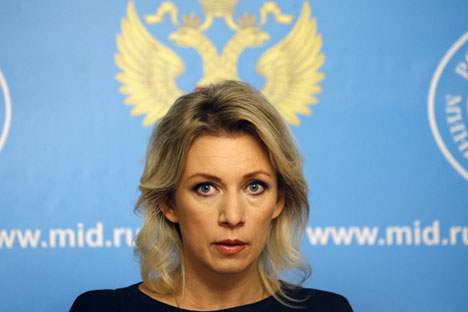 'We supported preservation of the legitimate government', Zakharova said
The Russian military operation in Syria is not aimed at supporting the country's president, Bashar al-Assad, Russian Foreign Ministry spokesperson Maria Zakharova said on March 27.
"It is not al-Assad we are backing. Bear in mind: he was not our best friend, but a friend of the West," she told reporters.
"We supported preservation of the legitimate government, power, knowing that if the president goes, the government will follow suit, the executive government and army will collapse, and Libya will seem an 'easy stroll' to everyone," she added.
Russia has "consistently called for preservation of the legitimate government in Syria with the aim to prevent its collapse," she said.
"They say that Russia introduced its aerospace forces in Syria to support al-Assad in the civil war. This could be said had Russia, for example, introduced its troops to support one of the parties to the Syrian civil standoff in 2011 or 2012. We did not support either party to the civil standoff," Zakharova said.
"Russia launched its aerospace forces operation, having designated it as short-term. The purposes were designated clearly: to fight terrorism, including against the backdrop of the failed year-long efforts of the coalition led by the United States," the spokeswoman said.
All rights reserved by Rossiyskaya Gazeta.