Teams from 25 countries to take part in Army International Games 2016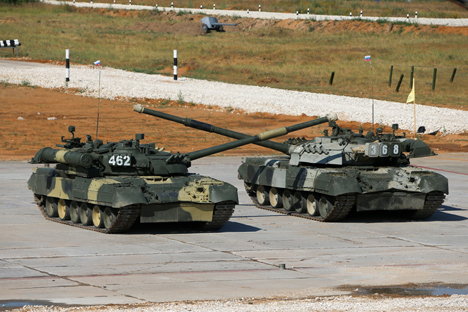 Tank Biathlon World Championship is now a part of International Army Gamesю
Press photo
The games will take place on 18 training ranges from July 30-August 13
Twenty-five countries, including seven CIS states, have already confirmed participation in the Army International Games 2016, Lt. Gen. Ivan Buvaltsev, head of the Main Directorate for Combat Training of the Russian Armed Forces, told reporters on March 28, after a meeting of the CIS committee of armed forces' chiefs of staff.
"To strengthen international military cooperation and broaden the geography of the Army International Games in 2016, we have invited teams from 47 foreign states," Buvaltsev said.
"By now, participation in the games has been confirmed by 25 states, including seven CIS states: Russia, Azerbaijan, Armenia, Kazakhstan, Tajikistan, Kyrgyzstan and Belarus, which are planning to send 62 teams to various competitions," Buvaltsev said.
The armed forces' service branches will conduct 23 competitions in field skills, ten of them for the first time, he said.
The games will take place on 18 test and training ranges in the Western, Central and Southern Military Districts from July 30-August 13, Buvaltsev said.
"Two competitions - Masters of Artillery Fire and Sniper Line - will be conducted in Kazakhstan," the defense official said.
All rights reserved by Rossiyskaya Gazeta.