Dagestani wrestler charged with desecration of Buddha statue in Elista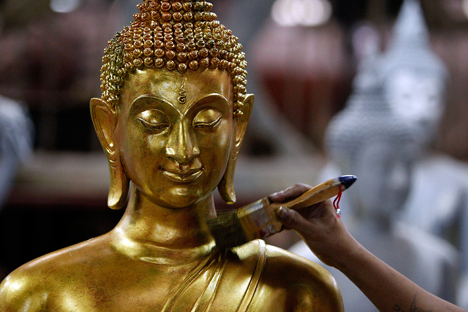 Buddhism is considered as one of Russia's traditional religions.
Reuters
A criminal case was opened in Kalmykia against a resident of Dagestan
A criminal case was opened in Kalmykia against a resident of Dagestan who is suspected of desecrating a Buddha statue in Elista in the early hours of April 2, Alexei Orlov, the head of Kalmykia, said.
"A resident of Dagestan, a participant in the all-Russian masters wrestling tournament, committed an unprecedented, glaring act of vandalism against our national, religious holy object in Elista," Orlov said in an official statement posted on his website on April 3.
Orlov said the suspect has been detained and a criminal case has been opened against him on the basis of the article dealing with "violation of the right to freedom of conscience and religion."
Orlov also reports that Abdusamad Gamidov, chairman of the government of Dagestan, arrived in Elista hours after the incident and publicly apologized to the people of Kalmykia for the young man's actions.
"All people of Dagestan are discussing this immoral act by our fellow countryman, and therefore I offer my deep apologies to the brotherly people of Kalmykia on behalf of all people of Dagestan and myself personally," Gamidov was quoted as saying on his website.
Gamidov also said the coach of the sports team, of which the culprit was a member, has been fired. "It's another reason for us to give more attention to the younger generation," Gamidov said.
All rights reserved by Rossiyskaya Gazeta.